P'ville Rec League Team Wracked By Tragedy Pulls Off Emotional Title Win
News Based on facts, either observed and verified directly by the reporter, or reported and verified from knowledgeable sources.
We are part of The Trust Project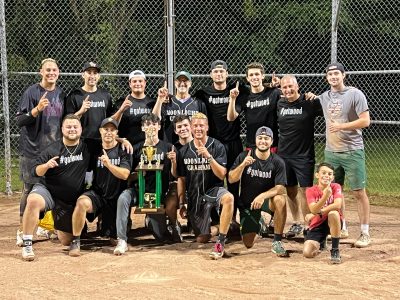 It's out of the ordinary when a local recreational softball league team provides the drama and lump-in-your-throat emotional moment that you might see on television or in the movies.
But that's what happened last week in the championship game of the Pleasantville men's recreational softball league season. The team, the Moonlight Grahams – named after the real-life player whose story of having played one inning of one Major League game was included in "Field of Dreams" – defeated the team from Foley's Club Lounge, their friendly league nemesis, 2-1 in eight innings, on a walk-off hit.
The Moonlight Grahams' title was accomplished less than three months after team founder and leader Jon Lieb died by suicide. To some, it could seem like the outcome would be placing greater importance on a softball game than maybe what was warranted, but not for anyone at Parkway Field last Tuesday evening or who has been involved with the team.
"I think some of the more spiritual folks said Jon was watching over us," said pitcher Peter Rogovin, an original member from when Lieb established the team nearly 15 years ago. "I don't believe in that stuff – if he was, maybe he could have given me a hit too. Whether he was pulling strings, watching with pride, or somewhere else, all of us felt his presence and were thankful for his leadership in assembling a great group of guys who pulled together to win."
Shortstop Jon Carlo Angiolillo said last week's game was easily the top moment for him since joining the Moonlight Grahams in 2016, which happened to be the only other year the team has won the league's title.
Immediately after Lieb's death in early June, the discussion about discontinuing or suspending their season last "not even for a second," he said. By happenstance, there were several scheduled games that had to be postponed immediately afterward because of smoke from the Canadian wildfires or rain.
It was more about making sure that one of Lieb's enjoyments in life – his softball team – would not end with him.
"Winning is always great; this is the coaching coming out in me," Angiolillo said. "It would already be one of the best teams ever I've been a part of, but I think just keeping these relationships together and the bond and the team, that's why Jon love softball so much in the first place."
It was also special that Lieb's two sons, Jaden and Nathan, and wife Sarah attended the final game, said longtime team member Jamie Lent. Lent mentioned how when the final hit snuck through the infield in the hole between the third baseman and shortstop, it was such a poignant scene.
He said that Lieb would have talked about this game for months, especially since it came against Foley's, a team that has been a thorn in the Moonlight Grahams' side most years. In fact, this year, the Moonlight Grahams were 11-3 in the regular season, but 0-2 against Foley's.
"I've played a lot of softball over the years, and this one is probably my favorite win, especially being like there were kids on that team (that) I coached, including Jon's son, my son," Lent said. "So to kind of bring it full swing all the way back to my youth, it was amazing."
Rogovin praised the Foley's players for their sportsmanship following the game, coming over to their side to congratulate them despite their ongoing rivalry.
But last Tuesday night belonged to the guys on the Moonlight Grahams, creating a memory that will last a lifetime, even though it was a bittersweet moment.
"I think everyone on the team knew Jon, loved Jon, knew it was Jon's team and really wanted to bring this one home," Rogovin said. "It's just been a team that's been through so much. You didn't want to finish off a season like that losing."