News Based on facts, either observed and verified directly by the reporter, or reported and verified from knowledgeable sources.
P'ville Pool Project Moving Forward; Village Board Approves Bond
We are part of The Trust Project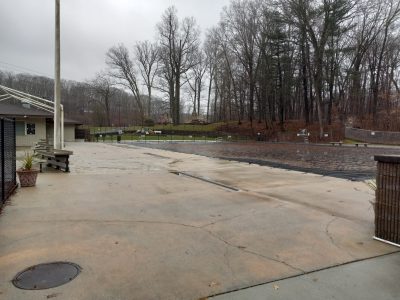 The proposed design for the new Pleasantville pool has been reviewed by the Westchester County Department of Health, which responded with comments and questions and requested minor revisions.
Engineer pool designer Steve Rimkunas updated the Village Board on the project at the Jan. 23 Village Board work session.
"None of the DOH comments were drastic and nothing requires major redesigns. They asked some technical questions," said Rimkunas, who will be meeting with the department on Jan. 31 to review its comments.
Rimkunas said a final review by the DOH could be four to six weeks away and a permit to build the pool would be issued at some point after that. He expects the village could bid the project in early March.
At last week's regular meeting, the board approved a 20-year, $5 million bond to finance the construction of the pool. The village's first bond payment will be due in early 2024. Approval for the bond kicked off a 30-day permissive referendum period allowing residents to collect signatures to put the project to a public vote, a move that could impact the project's timeline.
Last year, original estimates for the new pool were about $3 million, but as material and construction costs rose, estimates climbed to well over $4 million. The latest estimate for the pool is $4,786,000.
The bond will hike property taxes by 2 or 3 percent, or $135 to $155 for the average property owner. The increase is based on estimated operating expenses and revenue from pool enrollment, swim lessons and modest fee increases. Currently, annual pool revenue is about $255,000. Projections are that revenues will be about $300,000 with a new pool.
Construction is planned to start immediately after this summer's pool season, with a projected opening date on Memorial Day 2024.