P'ville Mountain Climber Reaches the Top of the World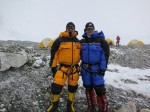 While watching the 1998 IMAX movie "Everest" as a child, Rob Sobecki fell in love with mountain climbing.
The 22-year-old Pleasantville resident and his father, Chris, always enjoyed camping, scouting and the outdoors together while he grew up, but it wasn't until seven years ago the pair made the leap to climb mountains. They trained and gradually embarked on adventures at increasingly higher elevations.
On May 20, Rob Sobecki achieved almost any serious mountaineer's dream, reaching the summit of Mount Everest at 6:10 a.m. local time. Although his father was forced to abort his effort about 1,500 feet from the summit, Sobecki was one of five climbers in their group, accompanied by five Sherpas and two guides, who braved high winds and unimaginable cold to ascend to the highest peak on Earth.
"You don't even know starting out what you're capable of or even if it's a real possibility," Rob Sobecki said. "But then after Denali it became something that we thought we could have a real shot at."
Climbing Mount Everest is an undertaking that even an experienced mountain climber can't do on a whim. It was last July when Rob Sobecki made the decision to put his senior year on hold at Olin College, a small engineering school he attends in Needham, Mass., and go for a shot of a lifetime. He figured it might be one of the only chances he'd get to take the time to prepare for an Everest climb while he's young.
Chris Sobecki wasn't as sure. Even though in their years of hiking together they had scaled Mount Washington in New Hampshire, Mount Ranier in Washington State, Kilimanjaro in Africa and Denali in Alaska, Everest isn't only physically demanding, but could be life threatening as well.
"I started training in July six days a week — cardio, strength training. I started feeling real good so in September I made the commitment that I would do it," said Chris Sobecki, an investment executive. They received backing from his wife, Patrice, and their two daughters, Nicki, 26 and Carly, 19.
For the hike itself, Rob and his father, who has since turned 54, prepared for nearly a year, training three hours a day for six days a week. The younger Sobecki said he tried simulating the roughly 35 pounds of gear on his back by carrying a weighted backpack on a Stairmaster.
As a prep for the big climb, in January the father-and-son pair hiked Argentina's Aconcagua, the tallest mountain in South America at more than 22,800 feet. But Everest is in a league of its own. At 29,029 feet, it's not only the danger of climbing at 40-degree angles in some spots with icy, rocky terrain, but at severely high altitudes the thin air requires a period of acclimation and the use of supplemental oxygen.
"When you're climbing a mountain like that you have to be very disciplined, and most people are running on supplemental oxygen and you don't want to run out of oxygen," Chris Sobecki said.
The Sobeckies left New York March 31, arriving in Nepal three days later, where they met their group for their climb up the south side. The annual window to climb Everest is a narrow one, between May 10 and May 29, before monsoon season starts, but weather usually remains an obstacle.
"I'd say there are eight to 10 good weather days to allow people to summit, so the groups are kind of split up among the eight to 10 days," Rob Sobecki said. "This year because of some politics and the way the weather worked, the lines (up the mountain) didn't get fixed until late. It wound up there were three good weather days."
On April 13, they reached base camp at 17,600 feet, where the extended period of acclimation to the altitude begins. There are four more camps higher up, roughly 2,000 feet apart in elevation where the mountaineers spend a day or two at a time, then come back down. At one point, the climbers descend to about 12,300 feet to have their bodies regenerate.
When the Sobeckis made it up to Camp IV (about 26,600 feet), they found that there were about 200 climbers. Attempts to summit are done during the night with lighted headgear to avoid the dangerous afternoon winds.
The weather forecast for the evening of May 18 into May 19 was excellent, so most of the mountaineers lined up for that night. The pair made a crucial decision.
"Let the crowd go up, then we'll go up the next day," Chris Sobecki said.
As it turned out, five climbers died that night. Published reports stated that the large crowds made the journey longer than some had anticipated and people miscalculated how much supplemental oxygen was needed.
Undeterred, the Sobeckis left Camp IV at 9 p.m. on May 19. During the next few hours howling winds dropped the wind chill readings to an estimated -75 F. In certain spots one slip could send a climber tumbling thousands of feet to a certain death.
"Most of the time you're concerned with good foot placement every single step of the way," Rob Sobecki said. "But there's a whole bunch of things you need to think about in order to have a successful climb."
As the pair was ascending, the wind-driven snow was icing up their goggles. Chris Sobecki took his off so he could see, but he began falling behind the group, first 50 yards, then more. Then he began losing his eyesight; he later learned his corneas froze. He made the painful but necessary decision to head back to Camp IV. The noise of the wind and wearing oxygen made verbal communication with his son nearly impossible.
"We had made a pact that if one of us had to turn around, the other one, as long as they were safe, would keep going," said Chris Sobecki, who was stumbling his way dangerously back down the mountain. An estimated five hours later, he made it to Camp IV. It would take about 48 hours for his eyes to thaw and have his sight return to normal.
Rob said he didn't know what went wrong with his father but kept going, an estimated three-and-a-half-hours from the summit heading up the south ridge. Later he made it to the famed Hillary Step, to make his final assault on the peak within the next 100 minutes.
"You're at four or five or six breaths, then taking two or three steps and then just huffing and puffing for four or five more steps, just trying to keep one foot in front of the other as much as you can," Rob Sobecki said.
The night had given way to dawn and a thick fog welcomed Sobecki's group. Shortly after 6 a.m., on the morning the rest of his class at Olin College were graduating, Sobecki and the remainder of the group reached the summit. Everyone hugged and congratulated each other. Sobecki had dedicated a year to spend five minutes at the summit before starting the nearly four-hour descent.
"It was a pretty emotional moment," he said.
For Chris Sobecki, who was more concerned about his son, he learned through radio communication between the guides that Rob had made it. He couldn't contain his joy when he learned that Rob had been successful.
"There's something about it, being one with nature," Chris said. "Some of the places we've been have been wonderfully beautiful."
"I think the real driver," Rob added, "is just being able to go to a place where it really takes a large effort to make it there, and only somebody who's really passionate about making it to that place will get there."