P'ville Historian to Lead Tour on Benedict Arnold, Major Andre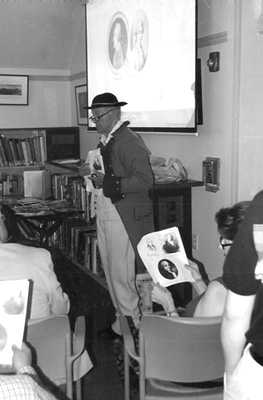 If you love history, Pleasantville resident Dennis Corcoran has scheduled a tour for later this month that you won't want to miss.
Corcoran will be the guide for the Benedict Arnold and John Andre Conspiracy Tour, retracing some of the steps both men took locally during the Revolutionary War that ultimately resulted in the capture of Andre by American militiamen and Arnold joining the British after his plot with to hand over West Point was exposed.
"It's the most historical event that took place in Westchester, Rockland and Putnam counties," said Corcoran, a retired social studies teacher at Blue Mountain Middle School in the Hendrick Hudson School District, "Both the Americans and the British wanted to control the Hudson River. That was the key to the New England colonies, the mid-Atlantic and the southern colonies, having control of that river."
The tour group will learn about the two American militiamen who began firing on the British ship, The Vulture, resulting in a change in Major Andre's plans after meeting with Arnold in Haverstraw. There will be a stop in Tarrytown, near where Andre was captured.
Those who attend will go for lunch at the Old 76 House in Tappan and see the room where Andre was held prisoner, then visit the Dutch Reformed Church, which served as George Washington's headquarters and where Andre was hung. There is also a stop to where Arnold and Andre met face to face.
The tour crosses back over the Hudson via the Bear Mountain Bridge to go to Garrison, where Arnold escaped to join the British. If there is time at the end, the group will visit the Post Hannock House in Verplanck. It was there that Washington awarded medals to Andre's captors. The tour is expected to last more than five hours.
What helps make the story so intriguing, Corcoran said, is how Arnold was a distinguished general early in the war, helping to stave off the British at Valcour Island in Lake Champlain and preventing them from gaining control of the Hudson.
"Washington we're all told was a tremendous leader," said Corcoran, who has written three books on Pleasantville and is also a baseball historian who wrote the highly successful "Induction Day at Cooperstown: A History of the Baseball Hall of Fame Ceremony" in 2010. "(But) he had difficulty in the beginning and then he really changed. He was very aggressive, then become more defensive."
However, Arnold, who often suffered from money problems, was repeatedly passed over for promotion despite his early successes.
For Corcoran, who has organized this tour several times in the past decade, said the biggest challenge this time is to attract about 48 people in time to reserve a coach bus. He needs to have confirmation from attendees by next Monday in order to reserve the bus.
In the past, they used a school bus from Chappaqua Transportation but looked to upgrade. If necessary, they will opt for a smaller bus, he said.
Corcoran has reached out to many of the historical societies in the county looking to sign people up.
He has also contacted Claire Capossella, with whom he taught with for years at Blue Mountain, and is a representative of the Red Hat Society to entice others to attend.
Corcoran hopes that some area schools will be receptive to him talking to students about the area's close connection to Arnold and Andre.
"If you tried something today in schools a lot of kids wouldn't know Benedict Arnold," he said.
For those interested in reserving a space, the tour, which beings at the ShopRite parking lot in Croton, costs $54, including lunch. The money needs to be received by next week. For additional information, contact Dennis Corcoran at 914-769-8819 or e-mail djcinductionguru@gmail.com. To reserve a space for the tour, send a check to Dennis Corcoran and mail to 90 Weskora Ave., Pleasantville, N.Y. 10570.