P'ville Bank Building Owners Want Moratorium Exemption
News Based on facts, either observed and verified directly by the reporter, or reported and verified from knowledgeable sources.
We are part of The Trust Project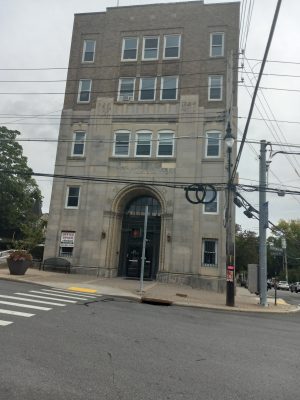 Owners of the iconic First National Bank building at Bedford Road and Wheeler Avenue have formally requested an exemption from the current moratorium for the village's downtown business district where the property is located.
Citing economic hardship as their main reason, property owners Michael and Alex Beldotti, principals in the entity known as 444 Associates LLC, appeared with their lawyer Jeffrey Gasbarro last week before the Village Board to argue why their proposed mixed-use project should move forward.
The Beldotti family has owned the property for more than 40 years. Since their longtime tenant Chase Bank vacated three years ago, the 3,000-square-foot ground-floor bank space has remained empty and Beldotti has been unable to lease the space to another bank.
The property, which consists of two buildings, also has 21,000 square feet of commercial office space of which 37 percent is currently occupied by a few small businesses.
"That 63 percent of commercial space is unoccupied makes it economically unsustainable," Gasbarro said. "The property is cash-flow negative. Our costs include taxes, utilities, basic expenses to keep the building open and operating, all of which exceed the level of income we are currently able to generate."
Gasbarro said the annual fixed expenses for the properties is $206,598.
"Each day of a lag caused by the moratorium exacerbates my client's hardship," he said. "This redevelopment is not being funded by outside investors but by the family who is spending their own funds to improve this property. If our hardship application is granted, we would like to continue our dialogue with the (planning) commission without any further delay."
The six-month moratorium, which paused development in Pleasantville's Central Business A1 district, took effect in January. Several residents had voiced their concern about what they viewed as an increased pace of development in the village and its potential negative impacts at a well-attended community forum in November. The moratorium officially ends July 30, although it can be extended if village officials deem it to be necessary.
The proposed development plan for the bank building, known as The Landmark 444, was revised and presented to the Planning Commission for the second time last month. The new plan reflected the commission's suggestions made in September to include preservation of the five-story bank building and adding four other structures with 36 rental apartments, including 16 one-bedroom and 20 two-bedroom units. Four of the units would be affordable apartments.
Village Trustee Paul Alvarez asked Gasbarro what type of resident might be attracted to live there.
"The zoning only allows for the maximum of two bedrooms," Gasbarro said. "We are not planning studios but a mix of one- and two-bedroom apartments, which are ideally situated for transit-orientated people who work in the city, downsizers or Pace students."
The discussion included the types of retail that might best fit in the bank building. Originally proposed for that space was a coffeehouse, but the revised plan suggests a retail store or professional offices.
Gasbarro said they were approached by one restaurant owner interested in the bank building but it would require the Beldotti family to invest $1 million to make the building suitable for a restaurant.
"We'd like to attract commercial tenants, but the age of the building is over 100 years old and we can't offer the same amenities that new properties can offer to attract tenants," Gasbarro said.
Mayor Peter Scherer said should the proposal progress, it would present advantages and disadvantages.
"It's fair to say that none of us and likely no one in the community is anything other than concerned about that building being restored and preserved in the way you proposed to do it," Scherer said. "That the use might change and the adjacent properties would turn into something is a new idea that generates some enthusiasm and some concerns."
The board voted to hold a public hearing to consider the hardship exemption application at its next meeting, scheduled for Apr. 10 at Village Hall at 8 p.m.