P'ville a Training Ground for America's Youngest Olympian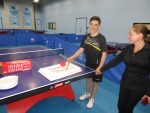 Sometimes it's cliché whenever the oft-repeated phrase is uttered about how the next great star can train or come from anywhere.
In the case of Sharon Alguetti, a world-class table tennis star currently ranked 63rd in the world, it's actually true.
The 14-year-old Tenafly, N.J. resident has the distinction of being the first member of the Westchester Table Tennis Center (WTTC) in Pleasantville to make the U.S. Olympic team. Alguetti qualified for the honor on Feb. 6 at the Olympic Table Tennis Trials in Greensboro, N.C.
"I have to keep practicing hard," Alguetti said during a party that was held in his honor at the WTTC last Saturday. "I still haven't achieved what I wanted to do. Now I just have to play my game."
Although he's technically on the Olympic team, that doesn't mean the teenager, the youngest American Olympian so far, will be on a plane to Rio de Janeiro for the start of the XXXI Olympiad on Aug. 5. Under the sport's convoluted system to determine Olympic berths, there's still one more hurdle for Alguetti to clear. Competitors in most of the sports represent their country, but in table tennis there are only four spots open for the North American team, which comprises the United States, Canada and Bermuda.
So Alguetti will be off to Toronto for the Apr. 8 North American Olympic Trials to see who will fill those spots. There are four Americans, including Alguetti, and four Canadians who will be competing for the honor.
Despite being the youngest competitor – the other players vying for the coveted spots range from 16 to 33 years old – Alguetti said he doesn't believe that will be a factor when he steps up to the table.
"My advantage is speed, their advantage is power, so it evens out at the end," he said.
His mother and father, Dorly and Eyal, immigrated to the United States with their three sons in 2010 from their home outside of Tel Aviv. Dorly said she recalled back in Israel when Sharon first stepped into a table tennis club and one of the players mentioned to her the potential he saw in him.
"He saw how he was holding the paddle and how he moved and he said he would be a champion – and we believed him," Dorly Alguetti said laughing. "But he didn't start playing table tennis for a long time. He played soccer."
He continued to play soccer after arriving in the U.S. WTTC manager Robert Roberts, who initially trained him and was with him in Greensboro, said he first saw Alguetti's ability about three years ago, but at that time he still was splitting time between sports.
Once he devoted himself to table tennis a little more than a year ago he attained another level, said Roberts, who described Alguetti as "smart and crafty." More recently, he's been trained by Kai Zhang, another top player at WTTC, who will be eligible for the 2020 Games.
"When he decided table tennis is going to be his sport, I think he developed and his whole attitude changed," Roberts said.
One of the big challenges Alguetti faces is that he takes a regular load of classes at Tenafly High School, said his father Eyal. Other top-ranked competitors who are still in school have tutors and don't have to keep up with regular classes, he said.
Then every day after school one of his parents drives him from Tenafly so he can put in his daily three hours of practice.
WTTC owner Will Shortz said having Alguetti train at his facility not only cements the center's stature in the table tennis world, but he has been an inspiration and a motivation for others, including the members who are novices.
"I think it validates what we do here," Shortz said. "It motivates people. When you see a member of our club get really, really good, we can't all be Olympians but we can all get better, and so Sharon is an inspiration for a lot of people."