PV Bulls Fall to Somers Red, Defeat Somers Blue in Busy Week, Yorktown Vipers Split with Mahopac in NYEB 12U Action
We are part of The Trust Project
In WPBA 11U action, the streaking Putnam Valley Bulls have won six out of their past eight games in their quest to earn a playoff spot, improving to 9-7.  Putnam Valley won an exciting 4-3 game against Ossining with strong pitching from both teams,  including Ossining's P. Tarricone (3 Innings 5K's 3 hits, 1 run) and P. Bassarinas (LP 2 2/3 Innings 4K's, 3 hits and 3 runs),  as well as Putnam Valley's Johnny Millicker (2 innings, 5K's, 1 hit, no runs), TJ Brescia (2 Innings, 3K's, 1hit, 2 unearned runs) and Alex O'Brien (WP, 2 innings, 5K's, 1 hit, 1 unearned run).  Putnam Valley mounted an exciting comeback. Down 3-1 heading in the final inning, a leadoff double by Jeremy Aviles, an O'Brien RBI single, Brandon Guerra reached on an error and John Listwan's RBI single drove in the walk-off run for the win.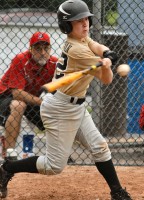 In their next contest, Somers Red defeated Putnam Valley 10-6. Somers stormed out to a 5-0 lead in the first fueled by Fecci's leadoff triple, and T. Sitarin's RBI double, plus RBI singles from Kaseta and Silverberg.
Putnam Valley mounted a comeback, scoring four consecutive runs. Listwan's walk, Adam Rukaj's RBI single, Alex O'Brien's single, Johnny Millicker's RBI double, TJ Brescia's RBI double and RBI single by Eric Jimenez were part of a big inning.
Somers would not quit, plating the next five runs in the thirrd with a home run by T. Sitari, a triple by Adams, a single by C. Sitar and a back-breaking three-run homer by Kaseta.  PV wouldn't go away easily, scoring a pair in the fifth with walks to Millicker and Brescia, who were driven in by Troy Kesselmark's two-run single. Somers pitching was handled by Silverberg (WP, 3 innings, 3K's, 4 runs) and Keating (S, 3 innings, 3 hits, 2 runs).
In their next contest, Putnam Valley would best Sleepy Hollow 11-1, fueled by a nine-run fourth inning and the strong pitching of Millicker (WP, 3 innings, 5K's, 0 runs, 1 hit) and O'Brien (1 inning, 2K's, 1 run, 1 hit).  The PV Bulls pivotal fourth inning started with Eric Jimenez reaching on an error, O'Brien singled, Millicker poked a two-run double, Brescia followed with an RBI single. John Listwan's RBI single, Troy Kesselmark's single, Charlie Gatewood's RBI single, Adam Rukaj's RBI single, Jeromy Aviles walk and Matt Carlsen RBI sac fly were all part of a monster inning.
Putnam Valley next took on Somers Blue on Saturday, winning by the score of 17-8.  Somers jumped out to a fast 3-0 lead in the top of the first powered by hits from Riina, Ward-Wills, RBI single by Marino and a two-run single by Weissman.  Putnam Valley answered back with TJ Brescia's 2-RBI double, Eric Jimenz's RBI single and Jeremy Aviles RBI single.  Putnam Valley tacked on another pair in the third, courtesy of Jimenez's single, a Gatewood walk and 2-RBI double by Rukaj.  Somers took the lead in the fourth when a walk by Weisman, a single by Fiore and three consecutive PV errors allowed Maico, Solarno, Albero and Torre to score.
PV would atone with their bats in the top of the 4th: Matt Ryan walked, Kesselmark singled, Millicker walked, Brescia had RBI ground out, and Listwan's 2-RBI triple was followed by Billy Venezia's 2-RBI double.  A trio of Putnam Valley pitchers excelled, including Millicker (3 innings, 8K's, 3 hits, 3 runs), Gatewood (WP, 1 innings, 0 hits, 0 runs) and Matt Carlsen (2 innings, 1 hit, 0 runs).
In their final game of the week Putnam Valley defeated Patterson Blue by the score of 11-1.  Putnam Valley came out swinging with O'Brien and Kesselmark singles, plus walks to Brescia and Listwan, who were plated by a Jimenez 2-RBI single.  The Bulls weren't done scoring again in the second, Johnny Millicker lead off with a single, followed by an TJ Brescia RBI single, Eric Jimenez RBI single, walks to Charlie Gatewood and Adam Rukaj and RBI ground out by Matt Carlsen.   The PV Bulls close out their final week with games against Mount Kisco and Yorktown, looking to lock down a playoff spot in the 11-U division.
YORKTOWN VIPERS
In NYEB 12U Elite division play, in a home and home series, the Yorktown Vipers beat the Mahopac Indians 9-5 last Wednesday at Crane Road field.  Tommy Morton led the Viper attack with four hits and two RBI and Manny Sanchez had two hits and two RBI for the Yorktown. Sanchez also came in relief to pitch four solid innings to hold off Mahopac.  Early in the game the score was tied several times and then with Mahopac leading 5-4 the Yorktown Vipers scored three runs in the fifth inning to take a 7-5 lead.  Friday's game at Legacy Field saw Mahopac fight back from a 2-0 deficit to win 7-4.
On Sunday, the Yorktown Vipers played a doubleheader against East Fishkill at Legacy Field, dropping the first game 5-4.  Spencer Poe had a two-run single and Patrick Mahoney pitched a complete game in the loss.  In the second game, the Vipers rebounded to win 12-2 behind the excellent pitching of Alby Ciuffetelli, who scattered four hits, had five strikeouts and two unearned runs. He also chipped in with an RBI single. Patrick Mahoney (2 hits, 2 RBIs and 2 runs) had a two-run single in the bottom of the fifth inning to help close out East Fishkill.
NYEB and WPBA coaches should submit scores and recaps to raygallaghersports@gmail.com.
JPEG Captions: RAY GALLAGHER PHOTOS
Three PV Bulls photos on server have captions in slug.
Plus, the shot of the back page in NWE edition should run inside in the Putnam edition and the shot on the back page of Putnam edition should run inside in the NWE edition