Puzzles and Ping-Pong Collide at KenKen Tourney in Pleasantville
We are part of The Trust Project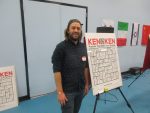 Robert Fuhrer found the perfect venue for Sunday's eighth annual KenKen International Championship.
After the tournament's popularity outgrew the Chappaqua Public Library, where it was held for the first six years, Fuhrer discovered a willing host in the Westchester Table Tennis Center in Pleasantville. The center is owned by New York Times crossword puzzle editor Will Shortz.
"This is such a perfect place for us," said Fuhrer, the owner of the Pleasantville-based company Nextoy, which is responsible for bringing the numerical puzzle to the United States from Japan. "It's Will Shortz, and afterward we'll have a nice social event, which we weren't able to do at the library."
More than 150 contestants between the ages of 6 and 80 from throughout the United States and around the world descended on Pleasantville for the contest. Participants were divided into five divisions – three student divisions based on age, a group for seniors 60 and up and the general adult division for those 18 to 60 years old.
Scores were compiled through three rounds of increasingly difficult puzzles. The top three adult finishers advanced to the championship round where they were joined by the student champion, Ellie Grueskin, of Scarsdale. Grueskin won a playoff round among the three student division leaders to earn a berth in the finals.
When the dust settled, Brooklyn's John Gilling, a data scientist, won the tournament for the second year in a row after taking less than nine minutes to solve a mammoth 9-by-9 puzzle that had been propped up on an easel for everyone in the crowd to follow.
During the championship round, the puzzle stumped all four finalists at some point, but Gilling was able to recover the quickest and easily defeated his rivals.
"There were only two or three obvious tells at the beginning and then you really had to start drilling down and looking for the stuff that was hidden," Gilling explained. "So that's what I eventually did."
A documentary film crew was on hand to follow contestant Tess Mandell, a high school math teacher from Boston. In her tournament debut last year, which was held in Manhattan, she finished 18th. Her goal was to break into the top 10, but Mandell found herself competing for the title on the easel next to Gilling. She finished fourth, determined to complete the puzzle even after time had expired. Still, she was thrilled by her progress.
"I've done a lot of 9-by-9s before. I think this one was especially challenging," Mandell said. "Almost every square had a lot of possibilities, they all have to cross-check with each other and there were a lot of trails for me to follow."
Grueskin, a senior at The Hackley School, finished second. She said she loves KenKen because it challenges her. While there is only one set of correct answers, there are many different ways to get there, she said.
Manhattan's Mike Holman, a technology consultant, finished third.
One of the more heartwarming storylines of the tournament was Daniel Jonas's victory in the senior division. In November 2016, a month before last year's tournament, Jonas, of Miami Beach, was diagnosed with cancer. He returned this year to finish first among nearly 30 seniors.
Although Jonas was overcome by emotion, his daughter, Lila, said she and her family have enjoyed different puzzles since she was young, including KenKen.
"We decided we had to come back," she said. "It's a real family tradition now."
Contestants who didn't make it as a finalist still enjoyed the competition. Mike Stricker of Briarcliff Manor, who entered with his father, Jim, said he was happy to win the family bragging rights for the year.
Train commutes into the city for school with his father was how he was introduced to KenKen. The puzzles also suit his competitive nature.
"I used to sleep on the train so (my father) gave me The New York Times one day and said try this puzzle," Stricker recalled. "I've been hooked ever since. I do them in school. I start my days like some people start off with a cup of coffee. I would do my KenKens. If I don't do any KenKens I can't start my work day.
Shortz said he was pleased with how the first tournament turned out at the Westchester Table Tennis Center despite a few logistical issues. Shortz, a table tennis aficionado, said he felt as though his two worlds collided on Sunday.
He was also encouraged because there was so much interest in the tournament that there was a sizeable wait list.
"We have room to grow, too," Shortz said. "They actually cut the number at 150, and next year I don't see any reason it couldn't be a lot bigger."