Putnam Valley Girls Soccer
We are part of The Trust Project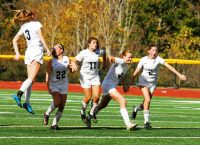 Historic Season at Put Valley Continues in Dramatic OT Fashion
Mahopac Moves on in Class AA; Somers Advances in A
PV soccer Coach Keenan Deegan's initial impression of the Putnam Valley girls' soccer team left a lasting imprint on him, but it wasn't until five years later that he would reap the harvest of the Tigers' historical 2017 season.
The Tigers, and his then-8th-grade daughter Maddie has lost an insufferable contest at the hands of Peekskill, and Deegan, who had won a slew of Class A titles as the boss of Somers, knew what had to be done for the sake of his daughter and PV soccer.
"Somebody had to tap into the potential, I mean, look around; you can see the potential here," Deegan said moments after the third-seeded Tigers defeated visiting No.14 Valhalla, 3-2 on PKs, in last Saturday's opening round of the Section 1 Class B tournament. "I just couldn't take it anymore. Somebody had to make them believe in themselves, and you can see that every year since then we've done better. Every year they believed more and more."
"Take nothing away from Valhalla, that could have gone either way," Keenan Deegan admitted after 120 minutes of 1-1 action. "But we need games like this to keep pushing us to see what we're made of. These girls never quit, they never quit even after having played a full game, two tens (OT) and two fives (sudden death), and then they had to get to the line and win on PK's, that's amazing. This is a game that shows character. Late in the game they score to tie it up and we could have went down in flames and let them score again, but not this team. If anybody beats us, they've earned it. This is either our 13th or 14th one-goal game. If that doesn't show you the character of these kids, nothing does… time after time again, and this is the culmination of all that hard work."
The hard work has resulted in the Tigers being ranked No.19 in NYS, the first time PV has ever cracked the state rankings.
"I can barely stand right now, I'm not gonna lie," Maddie Deegan said after scoring the clinching penalty kick, following the Cohen sisters, Lindsey and Kaitlin Cohen, as ticklers of twine in overtime. "That was the best 14-seed I've ever seen, they were a great team. Their goalie won every high ball against us, and she was a huge challenge for us. We're having a great time with this. We are out of our minds excited. I can't believe what we've accomplished so far. We were hoping for it go a little smoother today but everyone gave it their all and we're excited to be here and ready for our next game."
CLASS AA
MAHOPAC was the sole survivor among the locals in the AA bracket, taking a 3-1 win against reigning Section 1 champion Suffern last Saturday. Mahopac M Grace DiVincenzo had two goals. Kayley Mattos also scored for the Indians on assists from Ailis Martin, Carly Steinberg and Sama Colatruglio. Mahopac will travel to second-seeded North Rockland, ranked No.10 in NYS, for the quarterfinals Tuesday. If Mahopac can survive, the road will eventually go through undefeated Arlington, ranked No.1 in NYS.
"We are at the point in the season where we will be making slight changes depending on the opponent," Mahopac Coach Ross Fumusa said. "We will try to challenge their strengths and exploit their weaknesses with our strengths. With Suffern, we man marked one girl the whole game and forced her out wide so she could not play to the middle. Defensively, with a tight lead, we have been practicing on holding a defensive formation that solidifies our middle. I was impressed with the way we played against a good Suffern team. The highlight had to be a set play we have been literally working on each day at practice. The only time we used it all season was when we scored our third goal against Suffern on Saturday, so the persistence of practicing that play each day really paid off."
No.11-seed Yorktown and No.14 Carmel were both shut out in the opening round, the Rams falling 4-0 to No.3 Clarkstown South and the Huskers losing 2-0 to No.6 Ursuline. Mahopac, should it survive North Rock', would face the South/Ursuline winner in the Final 4.
CLASS A
SOMERS romped in the opening round, taking out visiting Lakeland, 6-0. No.4 Somers saw Sarah DiRubbo and Alex Pittman each tickle twine twice. Noelle DeMarinis and Mia Klayman also scored for the Tuskers, who will host No. 5 Tappan Zee in the quarterfinals Tuesday at a time to be determined. Assisits went to Dahlia Pepe (2), Noelle DeMarinis, Amanda Brugger, Danielle Cucchiarella and Jessica Rodriguez (2).