Putnam Valley 10-U's Advances to Little League D-33 Semis
We are part of The Trust Project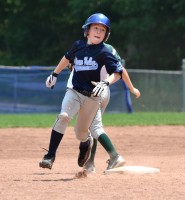 They say good things come in small packages and the Putnam Valley 10-U Little Leaguers are proving that tune true after moving on to the semifinals of the District 33 Little League Tournament after defeating Brewster, 17-8, at Union Field in the Putnam Valley Town Park last Sunday afternoon.
Solid pitching by starter Johnny Orlando and relievers Matthew Aviles, AJ Keogh and Michael Reichardt held Brewster to just three runs through five innings, and a seven-hit rally, that featured Adam Andreani's two-run double in the third, broke a 2-2 tie and gave Putnam Valley an 8-2 lead.
Another big rally in the sixth inning plated seven more runs for Putnam Valley.  An RBI double by Reichardt and a two-run home run to right field by Brian Lieberman gave Putnam Valley the momentum to send a total of thirteen batters to the plate.
In the bottom of the sixth, Brewster fought back; scoring five runs, but sharp defensive plays and good pitching enabled Putnam Valley to close it out.  Putnam Valley (3-1 in the tournament), will advance to the semi-final game against Cortlandt American, Tuesday evening at 6:00 PM at Ryder Park in Ossining, looking to get back to the 10-U finals for a second-straight year.
In NYEB action, the Putnam Valley Pride swept a double dip in its 13-U action against the Croton Bombers, 15-0 and 11-0. In game one, pitcher Mike Haeusgen (1-1 ) threw a five inning no-hitter, striking out five and walking four.
"Mikey struggled with his control early in the game but kept his composure and battled through it," Coach Nick Singer said.
Hitting stars included Zack Girvalo (3 for 3, 2RBI, 3 runs), Nicholas Singer (3 for 4, 3RBI, 2 runs) and Charlie Pagani (2 for 3, 2 runs).
In game 2, Pagani (2-0) dazzled on the mound, scattering three hits with six whiff in a five inning shutout. Hitting stars included Tommy Carroll (2 for 2, 4 RBI, including a bases-loaded triple), Pagani (2 for 3, triple, 3 RBI, 2 runs), Luis Fernandez (2 for 3. 3 runs) and Dillon White (RBI triple). The Pride improved to (3-2) on the season.
"Mikey and Charlie both pitched very well," Coach Singer said. "Our defense was solid and our hitting was tremendous and we get an A+ for effort."
All District 33 Little League, WPBA and NYEB coaches are encouraged to send results and upcoming schedules to raygallaghersports@gmail.com.