Putnam to Be Designated NY's First Purple Heart County
We are part of The Trust Project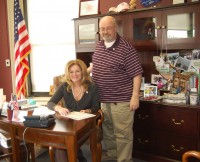 A request sent to Putnam County Executive MaryEllen Odell by William "Willy" Nazario, the Legislative Officer – Dept. of NY of the Military Order of the Purple Heart Chapter 21 and Denis Castelli, the organization's Judge Advocate, and seeking that she proclaim Putnam as a Purple Heart County was met with an immediate and positive response.
"Absolutely!" said Odell. "Of course I will do this. We have any number of veterans residing within our borders who have received this distinguished medal, the military award 'sought by none but respected by all.' I absolutely will ask the Legislature to accept a proclamation designating Putnam as New York's first Purple Heart County. It will be my pleasure to this for our many wonderful veterans and their families."
Odell will present the proclamation to Legislature Chairman Richard T. Othmer, Jr. for a full vote at the April 3 meeting. The Legislature will meet at 7 p.m. in the Historic Putnam County Courthouse on Gleneida Avenue in Carmel.
The Purple Heart is the oldest military decoration in present use. It was initially created by Gen. George Washington in 1782 as the Badge of Military Merit. It is awarded to any member of the Unites States Armed Services wounded or killed in combat with a declared enemy of the United States.
Putnam's Director of Veterans Affairs Karl Rohde is also pleased about Putnam becoming the first county in New York to be designated a Purple Heart County.
"In keeping with the tradition of Putnam being the best county in the United States regarding veterans, we're very proud to be the first Purple Heart County," he said.
Castelli, a veteran and Purple Heart recipient, resides in Putnam and serves as the County Historian, a position he relishes.
"Many states, counties and towns across our great nation are honoring our veterans with this simple act of patriotism," Castelli said.
When asked how many Purple Heart recipients resided in Putnam now, Castelli was unable to supply that information.
"There is no answer to this question and no manner to find out," Castelli said. "The only repository for this information is the Department of Defense and they are not talking."
Castelli provided a list of interesting but little known facts concerning Putnam's earliest veterans. Foremost, is Gen. Israel Putnam. While a resident of neighboring Connecticut, it was this American Revolutionary War hero for whom Putnam County was named.
According to Castelli's list, Putnam had four fighting generals during the Civil War (and there were two ironclad ships that bore the name of the USS Mahopac at that time. In addition, two Putnam residents died with Gen. George Custer at Little Big Horn; the Borden Milk Factory in Brewster produced and distributed condensed milk to Union troops during the Civil War substantially reducing incidents of dysentery; and Gen. Daniel A. Butterfield, who received a Congressional medal of Honor for his service during the Civil War, is credited with composing the bugle call "Taps." Other Putnam Congressional Medal of Honor recipients include Abraham K. Arnold, Samuel N. Benjamin, William J. Brewer and John McCloy who was awarded two such medals.
Castelli also pointed out that the Parrott Rifle, a cannon, was designed by Captain Robert Parker Parrott, an 1824 West Point graduate and Cold Spring resident, at his West Point Foundry in Cold Spring.