Putnam Parents Alarmed by Proposed Crisis Center Next Door to Day Care
News Based on facts, either observed and verified directly by the reporter, or reported and verified from knowledgeable sources.
We are part of The Trust Project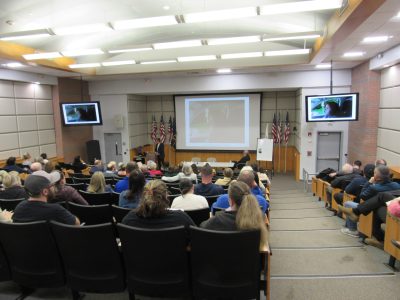 A plan to open a center for those experiencing mental health challenges and addiction next door to an established and well-attended day care center in Brewster had parents and the community fuming last week
Parents crowded into the Putnam County Bureau of Emergency Services auditorium in Carmel on Oct. 24 to strongly object to locating the Crisis Stabilization Center next to the Over the Rainbow Learning Center in the shopping center at 2505 Carmel Ave. It would be run by People USA, a peer-run mental health nonprofit that creates crisis centers and wellness services, and occupy a second-floor space.
Prior to the meeting, parents were alarmed to learn that a lease had already been signed by People USA with the landlord for the 24/7 center serving individuals from ages three to young adults who are experiencing trauma, acute mental health issues or substance abuse. No timeline for a final decision or when the crisis center would open was provided last week.
There are major gaps in services to help people in crisis situations throughout the county and state, said Mike Piazza, commissioner of the Putnam County Departments of Social Services & Mental Health.
Steve Miccio of People USA showed a video of how one center operates 24/7 similar to walk-ins at urgent care centers.
"Fifty percent of people coming in are suffering from anxiety and depression," Miccio said.
According to information provided about the center, it will serve people suffering from acute psychiatric symptoms; suicidal thoughts; adverse thoughts or behaviors; trauma and its lasting effects; addiction and chemical dependency; intoxication (with space available for visitors to get sober); strained relationships; social isolation; poverty; and economic stress.
Over the Rainbow owner Rita Acerno has been in the child care business for 30 years, 27 years at her current location. She has 91 children enrolled in her program. Acerno said she learned about the crisis center opening next door to her about a month ago from a local trade publication.
"I was totally unaware of this and the last I heard was that the supposed location for the center was near the hospital," Acerno said. "This was in the works for two years and I was not told the truth about it."
Acerno said she received a flyer that was distributed throughout the community and to every storeowner in the shopping plaza, listing the types of mental illnesses, addictions and health issues the center would serve.
Piazza and Miccio did not address why merchants at the shopping center were not told of the plans for the crisis center.
"After that, my wait list decreased when parents heard the crisis center would be next door," Acerno said. "Other shopkeepers are not happy about it. I have 91 parents who drive in and out every day and who support these stores."
Other establishments at the plaza include NR Pharmacy, Transitions Luxury Spa & Salon, Brewster Bagels, KLM Prosthetics, Striking 101 Martial Arts, Five Brothers Pizza & Pasta and DC Hair Studio.
Had the county told her two years ago they were considering locating the crisis center next door, Acerno said she would have had the chance to find another space.
"At that time the state was giving grants to relocate to open another day care," she said. "I could have had funding to go somewhere else. I opened 27 years ago and it cost me $100,000. I can't afford to move these days."
About 100 people at the meeting included parents as well as people speaking in favor of the crisis center.
Parent and teacher Natalie Fleming, who has eight-month-old twins and a three-year-old enrolled in Over the Rainbow, said she, like many other working parents, was acutely aware of the needs of addicts and those suffering mental illness.
"But is this the appropriate location?" Fleming asked. "Why can't you reconsider another location?"
Piazza said the county led an exhaustive search for vacant buildings that were too small and inaccessible, but the facility has to be in areas zoned for buildings that could house an around-the-clock operation.
Over the Rainbow is comprised of three large interior spaces each accessed from the outside where there is also a playground. The crisis center would also be accessible next to the day care center and playground.
Many at the meeting argued that when children are outside in the playground or on their way to other day care spaces, they would be in close proximity to those entering or leaving the crisis center.
Kristen Weller, former director of Over the Rainbow, said during her nine years working there, there was a Supported Living Services health facility next door.
"As director, along with other teachers, we witnessed patients loitering too close to the building in both front and back," Weller said. "Items were found in the playground and there were questionable things going on back then."
A contingent of supporters and former patients from a Poughkeepsie facility spoke about their experience and how the facility helped them through tough times.
Pictures in a video of the Crisis Stabilization Center in Poughkeepsie revealed that it was located in a group of government buildings and not near active businesses.
Parents asked about the arrival and departures of patients, especially if they were inebriated. Miccio said there would be a director or other personnel in charge at all times.
"Nobody will be leaving the building unsupervised," Miccio said. "Everyone is supervised and observed. It's not a place where people are just going to be able to hang out. There would be little interaction between patients and children."
Alex Othmer, who runs Guardian Revival, a nonprofit organization helping veterans and first responders experiencing mental trauma, said he understood the fear factor because he had two young children of his own.
"I was a Navy Seal for nine years and I've experienced my own trauma," Othmer said. "I am grateful that Putnam County is opening this center. Veterans and first responders experience much higher suicide rates and mental illness compared to the general population."
Applause greeted Othmer when he said "I keep hearing the words 'they' and 'these people.' The reality is there are people in this room right now suffering from depression, anxiety and trauma. What prevented me from seeking help were the stigmas and barriers associated with mental health. Part of the problem of why some people are taking their lives is because of this stigma."
When Miccio was asked if the crisis center location next to Over the Rainbow was a done deal, he said "our hope is that people will embrace it and allow us to open our facility."
Corrections
In the print version of this article, it was incorrectly reported that Putnam County signed a lease to have the Crisis Stabilization Center move into the space in Brewster. People USA, which would operate the center, signed the lease with the landlord.
Also, the last name of Alex Othmer, the head of Guardian Revival, was incorrect.
The Examiner regrets the errors.