Putnam Legislature Chair Faces Challenge From Kent Firefighter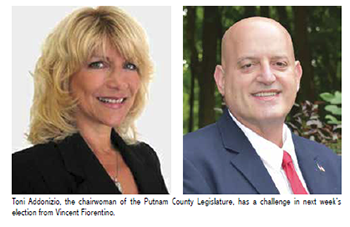 The race for the District 3 seat on the Putnam County Legislature pits Chairwoman Toni Addonizio against Vincent Fiorentino, a 19-year volunteer firefighter.
Addonizio, who has led the nine-member, Republican dominated legislature for the last two years, is seeking a third three-year term.
"I would like to think I bring every side into account and think things over," Addonizio said. "I try my hardest. That's all you can do. I feel there is a lot more I want to accomplish."
Fiorentino, 60, who has lived in Kent for 34 years, unsuccessfully ran for the Kent Town Board in 2003 and 2005. He is a union representative and organizer for 5,500 members in Operating Engineers Local 30.
"I'm running to represent the residents of Putnam County." Fiorentino said. "It's about quality of life for everyone, not just a select few. I will be an independent voter. I won't be a puppet like everyone else on that legislature. We have to stop the nonsense."
On the legislature, Addonizio, an associate broker with Houlihan Lawrence in Brewster, has served as chair of the Rules, Economic Development and Health committees. She is a member of the task force fighting the war on opioids and was instrumental in bringing the Hope Not Handcuffs program to the county.
Addonizio is also a member of the Putnam County Veterans Medal Advisory Board, assisted in helping the Putnam SPCA find suitable office space and has partnered with the nonprofit organization Second Chance Foods in Brewster to provide food for about 20 families a week in the county who reached out to her on Facebook.
"I really do enjoy volunteering. I don't want to see anyone go hungry," she said. "I want to reach out to anyone struggling with food insecurity."
Fiorentino maintained Addonizio enjoyed publicity, whereas he is focused on making a difference with the fire department.
"It's all about the safety and health in this county," he said. "I'll put my record against her any time."
Fiorentino said he would save the county money each year by refusing to accept its medical coverage and criticized the legislature for approving a large raise for itself and Putnam County Executive MaryEllen Odell.
Addonizio countered by pointing to the county's Aa1 rating from Moody's.
"This high rating saves Putnam hundreds of thousands of dollars because of the low interest rate of bonding," she said.
Addonizio said she is confident Putnam will rebound from the financial difficulties caused by the coronavirus pandemic.
Despite running against an incumbent, Fiorentino is optimistic he has enough personal connections in Kent to be a strong contender.
"It's going to be a close race," Fiorentino said. "If I can persuade a few people, and people come out to vote, I have a shot. Let's see how the dice roll."
Two other county legislators, William Gouldman and Amy Sayegh, are running unopposed for re-election.