Push Intensifies for Raising the Age of Adult Prosecution to 18
We are part of The Trust Project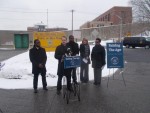 An area state senator is attempting to gather statewide support for changing a law that would treat most 16- and 17-year-olds charged with crimes as juveniles rather than adults.
On Friday, state Sen. David Carlucci (D-Clarkstown), surrounded by advocates who are attempting to raise the age of adult criminal responsibility to 18 years old, spoke outside Sing Sing Correctional Facility in Ossining to lobby for the change.
Carlucci said for youngsters 16 and 17 years old who commit nonviolent offenses, the criminal justice system should focus on rehabilitation rather than incarceration. He said there are currently about 800 inmates statewide who are 16 and 17 serving time in adult prisons where they are often intimidated or abused by the older inmates. Many become more hardened in prison and are doomed to a life of crime because the recidivism rate for inmates that age is high.
Citing Gov. Andrew Cuomo's recent remarks advocating for reforms in the criminal justice system, including raising the age for adult responsibility, Carlucci said while it would cost an estimated $25 million to bolster the juvenile system, over time it would save the state money by cutting the prison population and having these youngsters become contributing members of society.
"A 16- or 17-year-old in an adult facility like the one we're standing in front of today, we might as well sentence them to a life sentence," he said.
Currently, New York and North Carolina are the only two states where 16- and 17-year-olds are automatically treated as adults.
Among the advocates who accompanied Carlucci outside the famous 190-year-old prison, was Jim St. Germaine, who had been arrested in Brooklyn several years after his family moved there from Haiti.
For three-and-a-half years, he was in a group home for juvenile offenders and received services to help turn his life around. St. Germaine considers himself lucky for having been brought up on felony drug charges while he was still 15, affording him the chance at rehabilitation.
"My goal in life is to show them that whether you make a mistake at 14 or 15 or 16 or 17, you should have the same chance in life to actually make something of yourself," said St. Germaine, now 25, a college graduate who is working on his master's degree in public administration at NYU.
He has also founded the nonprofit organization Preparing Leaders for Tomorrow (PLOT), which mentors at-risk youths.
Page Pierce, executive director of Families Together in New York State, pointed to the recently released evidence-based recommendations by the state that supports transforming the juvenile criminal justice system. Pierce said she knows of teenagers who at 16 or 17 years old ended up in adult prisons for stealing shoes or Chinese food.
"Our children deserve better, they deserve the opportunities such reforms will provide and today we stand on the precipice of delivering better," Pierce said.
In Westchester, there were 948 16- and 17-year-olds arrested in 2013, with 71 percent of those being for misdemeanors, said Allison Lake, deputy director of the Westchester Children's Association. That percentage is similar to nationwide statistics, she said.
Under a revised juvenile criminal justice system, every case involving 16- and 17-year-olds would go to a juvenile court judge who would determine whether it should stay in that court or be transferred to try the youngster as an adult, Lake said.
Carlucci said he believes there is steadily growing support in Albany for this reform, but it will take work to convince enough legislators that there is a benefit to the state.
"I think we have to keep the pressure on," he said. "We've got to hear from people like Jim St. Germaine and other personal experiences."