Pugh Elected New Mayor in Croton; Testa, Borgia Reelected
We are part of The Trust Project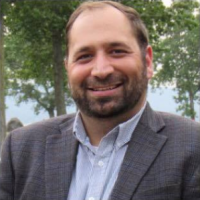 Trustee Brian Pugh was elected mayor in the Village of Croton-on-Hudson last week, unseating incumbent Greg Schmidt.
Pugh, 31, picked up 58% of the votes cast (1,643) to 42% (1,189) for Schmidt, who was seeking a fourth two-year term.
"My vision for our community is a tolerant and livable village that is economically and environmentally sustainable and one that the middle-class families can still afford," said Pugh, a life-long Croton resident.
Trustee Robert Anderson was also ousted as he finished third (1,086) in the race for two Village Board seats, a far distant behind Pugh's running mates, Amy Attias (1,721) and Sherry Horowitz (1,686). Roseann Schuyler was fourth with 1,066 votes.
County Board
In the District 1 contest for the Westchester County Board of Legislators, Republican Minority Leader John Testa was reelected to a fifth term by defeating Democrat Nancy Vann, 7,863 (56%) to 6,240 (44%). Testa represents Peekskill, Cortlandt and part of Yorktown.
In the District 9 race, Democratic Majority Leader Catherine Borgia was reelected to a fourth term by convincingly beating GOP challenger Robert Outhouse, 8,798 (63%) to 5,074 (37%). Borgia represents Ossining, Briarcliff, Croton, and parts of Cortlandt and Peekskill.
Ossining
In the Village of Ossining, in an uncontested race for two seats on the Village Board, Quantel Bazemore was reelected to a second term, while Omar Herrera was elected for his first term, replacing Trustee Manuel Quezada.
Reelected running unopposed were Highway Superintendent Michael O'Connor, Village Justice Nancy Quinn Koba and Receiver of Taxes Holly Perlowitz.
Meanwhile, in the Town of Ossining, Supervisor Dana Levenberg was reelected to a second term running unopposed, as were Town Board members Kim Jeffrey and Northern Wilcher.