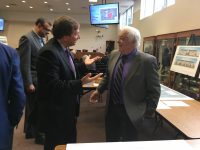 Residents and other interested parties were given their first look last week on the establishment of a proposed Medical Oriented District (MOD) on Route 202 in Cortlandt near New York Presbyterian/Hudson Valley Hospital.
Approximately 60 people in attendance at Cortlandt Town Hall were given an informal presentation of the genesis of the MOD and the proposed development of two sites in the area of Lafayette Avenue, Conklin Avenue and 202.
Cortlandt officials explained the intent of the MOD is to encourage economic revitalization in the area surrounding the hospital and implement some of the 205 goals and recommendations outlined in the town's 2016 Sustainable Comprehensive Plan, dubbed "Envision Cortlandt."
"We felt and the public felt it was an area that had potential for future development," said Cortlandt Planning Director Chris Kehoe.
One of the proposed projects, referred to as the Gyrodyne Site, calls for the redevelopment of eight contiguous parcels totaling 13.8 acres with 100,000 square feet of medical offices, 4,000 square feet of complementary retail, 200 residential units, 180 structured parking spaces and 383 at-grade parking spaces.
Another project, known as the Evergreen Site, led by longtime developer Val Santucci, would include the redevelopment of three vacant contiguous parcels totaling 28 acres with a 120-unit assisted living facility, 90-room hotel with 13,000 square feet of retail space, mixed-used retail/office building, 166 residential units and approximately 550 parking spaces.
Supervisor Linda Puglisi emphasized any development that is approved would be "phased in" and mentioned the town's need to find additional tax revenue with the Indian Point nuclear power plants slated to close in 2021. Once Entergy is no longer operating the plants, Cortlandt will lose about $800,000 annually.
"The hub is the hospital. We all have to take a hard look at where there's other possible revenue. That's what part of this is about," Puglisi said. "We have to look at the needs of the community. We have to look at the challenges we have. Nothing is carved in stone. We're not going to do anything that the community is not behind."
Town Attorney Thomas Wood stressed there were many studies, such as an environmental review and traffic analysis, changes to the Zoning Code, public hearings and other steps that had to be taken before any shovels were put in the ground.
"It's a work in progress. It's a process," he said. "What you see on the boards is not a done deal. You have to have something to start the process."