Protestors Urge Senator Murphy to Support Health Act
We are part of The Trust Project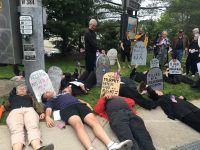 By Anna Young
On a dreary Friday afternoon, CD17Indivisible, along with several activists, held a Die-In urging Senator Terrence Murphy (R-Yorktown) to support the New York Health Act in the event that the Affordable Care Act (ACA) is repealed at the national level.
Dressed in black carrying imitation tombstones saying, "Murphy's inaction could kill me," and chanting slogans such as "Senator Murphy show you care, New York health care is just and fair," close to 50 local residents gathered at the corner of Murphy's Restaurant in Yorktown standing together in support of single-payer healthcare for all New Yorkers.
"People are going to die," organizer Marianna Stout said during the June 16 protest. "If the ACA is repealed, there will be people who do not have health care who have pre-existing conditions or conditions that require that they have health service frequently and they won't get it and can't afford it and they are going to die."
Last month, the House of Representatives narrowly approved legislation to repeal and replace major parts of the ACA. Despite legislation passing at the Assembly for the last three years, it is short a co-sponsor and would need a yes vote from Murphy to pass on the Senate floor.
If passed, the New York Health Act will implement universal health care and eliminate financial barriers creating a single-payer system funded by taxpayers rather than relying on employers to provide health insurance.
"The New York Health Act will provide medical coverage for all New Yorkers and that's why we're here," Stout said. "It's a preventative measure so people living in New York State with pre-existing conditions don't have to live terrified that they will have to lose their health care."
As protestors lay still on the ground with their tombstones place behind their heads, passing cars honked their horns in solidarity.
Citizens also shared their personal stories related to their need for the New York Health Act if the ACA is repealed.
Lisa Ames, a Hartsdale resident who suffers from epilepsy, explained that after her late husband was diagnosed from ALS and could no longer work, she was no longer covered under his health insurance. She said she would have lost all coverage if the ACA had not been available.
"Congressional republicans want to repeal the ACA, if they are successful in achieving this goal rather than working with democrats to fix the flaws, many people, myself included, will be badly hurt," Ames said. "In New York State we have a chance to be rescued by the catastrophe this could create. It's just so basic that everyone should have health care in this country, anyone who would question it, it just seems unfathomable to me."
Peekskill resident Ron Stout shared his concern explaining how his treatment for Non-Hodgkin Lymphoma is currently subsidized and if that goes away he will be unable to afford his treatment.
"With threats to the ACA and to people with pre-existing conditions, I see a need for states to step up when the federal government won't," Yorktown resident Tom Marron said. "We have to protect everyone, everyone deserves access to great health care."
Murphy could not be reached for comment.