Protesters Turn Out to Demand Action, End Gun Violence
We are part of The Trust Project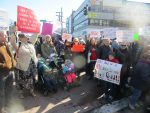 Several hundred Westchester residents demonstrated outside county Republican headquarters in White Plains on Sunday demanding that gun control legislation be enacted to stop gun violence after 17 people were gunned down at a Florida high school last week.
Members of Indivisible Westchester, Moms Demand Action, Northern Westchester Million Mom March and other groups spilled out onto Mamaroneck Avenue vowing to defeat candidates and elected officials who oppose common sense measures to limit the proliferation of firearms.
The anger in the crowd was palpable just four days after 17 students and staff members were killed at Marjory Stoneman Douglas High School in Parkland, Fla. There were dozens of people holding signs as the crowd chanted numerous slogans such as "We need more than thoughts and prayers" and "We will resist, we will persist."
White Plains resident Erin Fuller, who grew up about 10 minutes from Sandy Hook Elementary School in Connecticut, was in Las Vegas last Oct. 1 with her fiancé for the Route 91 Harvest country music festival when 58 people were killed. Fuller said she and her fiancé may have been saved when she suddenly felt sick moments before the shooting and went to the bathroom.
"Every day I close my eyes and hear the gunshots, the gunshots that took the lives of 58 beautiful people," Fuller said. "Now 141 days later I feel I can no longer sit idly by and wait for others to create change, now that gun violence has happened to my community."
"This is American carnage and it is unacceptable," she added.
Assemblywoman Shelley Mayer (D-Yonkers) said proposed laws that would make New York safer have been repeatedly thwarted in the Republican-controlled Senate. One measure would allow for Extreme Risk Protection Orders, which enables courts to temporarily prohibit a person from having guns if law enforcement or family members demonstrate that the individual poses a significant threat to themselves and others.
Other bills that have been blocked in the Senate include the ban of bum stocks and conducting research on gun violence.
"Now is the time for moral courage, this is the time for action," Mayer said. "Thoughts and prayers are fine but they are not enough. We will not be deterred. This is the moment to step up and take action, make change and make our communities safe. We demand it. We will not be silenced, we will not go away."
Residents in the crowd said they came out because they are determined to see change. Pleasantville resident Vitalah Simon said she believes the reaction to last Wednesday's massacre is different because it has energized young people who during the past week have become active participants in forcing action.
"Now we see the youths are really getting involved and their voices are really strong and we have a responsibility to respond to that call, that clarion call that they're getting out," Simon said.
Nelson Payamps, another Pleasantville resident who attended the rally, said he wanted to publicize that state Sen. Terrence Murphy, who is his representative, not only opposes the measures that are being blocked by the Senate, but also wants to repeal the New York SAFE Act.
"I'm here to support this rally and also I'm here because I want to get this guy out (of office)," Payamps said. "He does not represent the best interests of New York."
Gallia Taranto of White Plains said she was disturbed that part of the conversation by those who want to evade the gun restrictions following the shooting have tried shifting the focus to those suffering from mental illness. Taranto said that further stigmatizes those who experience mental illness because the overwhelming majority are not violent, she said.
Three nationwide efforts have been in the works that will occur over the next two months to keep the pressure up, organizers announced on Sunday. On Mar. 14, organizers of the Women's March have launched a social media campaign to stage a 17-minute walkout at 10 a.m. by teachers and students.
Students in Florida are planning a March for Our Lives on Saturday, Mar. 24 in Washington and communities around the country to demand action.
A full-day school walkout is being planned for Friday, Apr. 20, the 19th anniversary of the Columbine High School shooting. This effort will be accompanied by a change.org petition with the goal of collecting 50,000 signatures calling for change.