Prosecution Rests After Tense Moments in Kennedy Trial
We are part of The Trust Project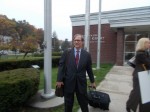 The prosecution in the Douglas Kennedy child endangerment case rested Wednesday afternoon but not before some tense moments during the cross-examination of a Northern Westchester Hospital nurse.
Defense attorney Robert Gottlieb once again attempted to chip away at the credibility of Cari Luciano, who had testified on Tuesday that she was kicked to the ground by Kennedy while she was on duty on Jan. 7, 2012. Previously, Luciano and fellow nurse Anna Lane said they had tried to stop Kennedy from taking his newborn son, Bo, from the third-floor maternity ward and go outside for fresh air.
At one point, questioning shifted to how Lane caught up to Kennedy, who was carrying the baby in his arm and heading for a staircase to go downstairs. That was moments after he had been blocked by nurses from using the elevator.
Luciano became frustrated because Gottlieb was admonishing her for failing to directly answer questions and for having inconsistent testimony compared to statements she made to Mount Kisco police shortly after the incident.
"I'm not sure what you want me to say," said Luciano.
"Actually the truth," Gottlieb responded.
"I'm trying to," she replied.
The exchange preceded a spat between the defense and the prosecution during the same cross-examination. Gottlieb attempted to question Luciano about whether she had contacted Child Protective Services following the incident.
Assistant District Amy Puerto objected and argued that line of questioning should expose everything in the Kennedys' CPS file.
After the defense and prosecution argued points of law on the matter with Mount Kisco Village Justice John Donohue, Gottlieb became agitated when Puerto continued to object and argue that if Kennedy and his wife, Molly, were prepared to waive the confidentiality they would be thrilled.
"That's not funny. This is not a funny matter," Gottlieb said in the direction of a smiling Assistant District Attorney Michael Borrelli.
"What you just said is funny," Borrelli retorted.
Gottlieb said that he plans to ask Donohue to dismiss the child endangerment and harassment charges when the trial resumes at 1 p.m. on Thursday. He is expected to call Dr. Timothy Haddock, the head Emergency Room physician that night and a Kennedy friend, who was on the third floor at the time of the incident.
Gottlieb said after court that the motion to dismiss is a routine move, but he is prepared to forge ahead.
"It's a motion that's always made after the prosecution case and we intend on calling our witness," said Gottlieb, who gave no indication how many other witnesses, if any, he would call.
The final prosecution witness was Kevin Galvin, a Northern Westchester Hospital security guard for the past four years and a former New York City corrections officer. Galvin said he was downstairs on the main floor the night of the incident when he heard the alert on his radio for a Code Purple, signifying an agitated individual, on the third floor.
When he began to ascend the staircase, Galvin said he heard a commotion about three floors above. Almost immediately afterwards, the warning was upgraded to a rare Code Pink, which is for a baby abduction, he said.
Galvin testified that when he reached the third-floor landing he encountered Kennedy, although he didn't know who he was at the time. He said that Kennedy, who was carrying his son in his left arm, was composed when he approached him.
"He said 'I want to take my baby out for some fresh air,'" Galvin said.
At that point, he recognized Haddock who advised Kennedy to remain on the floor.
"The unidentified male turned to Dr. Haddock," Galvin said. " Dr. Haddock said, 'Doug, I think it's best to go back.'"
Galvin said he followed Kennedy back to Room 328 to reunite him and the baby with his Molly Kennedy without further incident.