Principal Shakeup at Lakeland Copper Beech Middle School
We are part of The Trust Project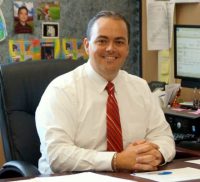 The principal at Lakeland Copper Beech Middle School has been replaced, but district officials are remaining tight-lipped about the circumstances surrounding his ouster.
In a statement on the district's website, which was posted Friday, no mention is made of what happened to Principal Robert Bergmann, who served in that role for the last four years. Superintendent of Schools Dr. George Stone also declined to comment on Bergmann's departure when reached by email Friday.
However, a district source told The Northern Westchester Examiner alleged inappropriate behavior with another district employee led to Bergmann's exit from the district, where he worked since 2004. Bergmann previously served as assistant principal at Van Cortlandtville Elementary School and as a teacher in the district.
Last Thursday, the Board of Education appointed Assistant Principal Frank Ruolo as Acting Principal at Copper Beech, while Samantha Shulman was named to fill Ruolo's shoes as assistant principal.
"The administrative team at the middle school will be working with central office administrators to ensure continuity and limit disruption to the learning environment at the middle school. Thank you for your continued support," the district stated on its website.
When asked if Bergmann, who earned an annual salary of $156,704, was terminated or resigned, Stone stated in an email that "will only be answered when there is personnel action taken and posted publicly. Hopefully sometime in the very near future."
Bergmann is also the lead singer in the band Unfunded Mandate, comprised of district employees and sponsored by the Lakeland Education Foundation that has been in existence for about the last four years.
Other members of the band include Stone, who is the drummer, Lakeland High School Principal Chris Cummings, who plays lead guitar, Chris Ruggiero, director of math, who is on keyboards, and Rick Russo, music teacher at Copper Beech, and Charlie Rhyner, music teacher at Thomas Jefferson Elementary School, who play guitar.
Stone said Unfunded Mandate had no comment on whether Bergmann would continue with the band.
Meanwhile, Stone said "there will be no repercussions for student participation" at either Lakeland or Walter Panas high schools during National Walkout Day on March 14.
"Student leaders at this both high schools have indicated a desire to schedule a short event that day.  They are still working with principals on the plans that have not yet been finalized. Administration received and considered their request and did agree to assist them in making these safe, educational and meaningful events," Stone stated.
Women's March Youth EMPOWER has called for students, teachers, school administrators, parents and allies to take part in a #NationalSchoolWalkout for 17 minutes at 10 a.m. across every time zone on Wednesday, March 14 to protest Congress' inaction to do more than tweet thoughts and prayers in response to the gun violence plaguing the schools and neighborhoods, and to pay respect for the 17 students and faculty gunned down on Valentine's Day in a high school in Florida.