Prayer Vigil for Buffalo Shooting Victims Fuels Calls to Stamp Out Racism
News Based on facts, either observed and verified directly by the reporter, or reported and verified from knowledgeable sources.
We are part of The Trust Project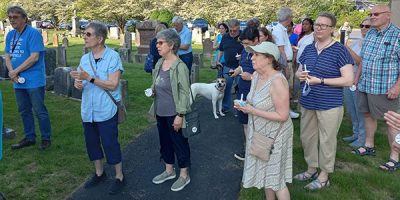 An interfaith prayer gathering and vigil attracted about 50 Yorktown and Somers residents and clergy members late Sunday afternoon to remember the victims of the May 14 mass shooting at a Buffalo supermarket.
The event, held outside the First Presbyterian Church of Yorktown and organized by the Yorktown-Somers Interfaith Council and Race Amity of Northern Westchester and Putnam, urged those who assembled to make a difference in their communities to combat the scourge of racism.
A week ago last Saturday, an 18-year-old gunman drove about two hours from his western New York home to target a Tops supermarket because that store has a predominantly Black customer base.
"It seems to kind of keep pouring down and it's very discouraging, yet I'm so glad that people were willing to come out today to think about this, to pray about this and to unite our hearts and our spirit to try and do something about it," said Tami Seidel, co-pastor at the First Presbyterian Church.
In addition to prayers, the names of the 10 victims killed in the latest mass shooting and a brief bio of each were read by Judyth Stavans, a member of Race Amity of Northern Westchester and Putnam. Those killed were Roberta Drury, 32; Margus D. Morrison, 52; Andre Mackniel, 53; Aaron Salter, 55; Geraldine Talley, 62; Celestine Chaney, 65; Heyward Patterson, 67; Katherine Massey, 72; Pearl Young, 77; and Ruth Whitfield, 86.
All lived in Buffalo except for Mackniel of Auburn, N.Y. and Salter of Lockport, N.Y.
"The people who were lost were doing what so many of us do every day without having to think about it – shopping for groceries," Stavans said. "They said goodbye to their loved ones and never saw them alive again. We must never become numb to this kind of loss."
Marisa Ragonese, a member of the organization Yorktown for Justice, said it was time for meaningful action by all those who want to see racist violence end. While virtually all people across the political spectrum denounced the shootings, not everyone is doing all that they can to put an end to shootings in general and racist behavior in particular, she said.
"I want to make something crystal clear to the community right now, hoping my words will reach the people who need to hear them most: nobody can, in good conscience, denounce murder in one breath and in the next support the ideologies that fueled them," Ragonese said.
"And make no mistake, when you advocated against all of the measures and initiatives that name and address racism, going so far as denouncing academic work that shines a critical light on racism, you might not be pulling a trigger buy you're buying the bullets."
Organizers during the half-hour program urged those in attendance to find meaningful causes and organizations to lend their time to help themselves and others end the cycle of hate. Joining a local chapter of the NAACP, making sure when you hear racist speech that it doesn't go unchallenged, keeping elected officials accountable or if someone belongs to a religious congregation to inquire about its efforts to combat racism are all among the steps that can be taken.
"Let's go out there, separate and together, and make that change," Stavans said.
Several people in attendance said it was critical for them to take time and attend Sunday's vigil and prayer gathering, even on a 90-degree day. Paul Edwards said there are many issues that people feel passionate about but they don't expend the time or energy to stand up and get involved.
"The idea of things going wrong, things go wrong because most people stay silent, so everyone has to voice their vision when they see something wrong because there's an opportunity to support somebody's voice," Edwards said.
Yorktown resident Jennie Sunshine said the town is a wonderful community but like many places there are problems that need to be addressed. She said the town could do more to address racial problems when they occur.
"We have a nice diverse community but there is racism here," Sunshine said. "I know my kids hear things in school and I'm not entirely happy with the leadership of Yorktown. Why aren't they here?"