News Based on facts, either observed and verified directly by the reporter, or reported and verified from knowledgeable sources.
Popular Sandwich Shop Opens Second Westchester Outpost
We are part of The Trust Project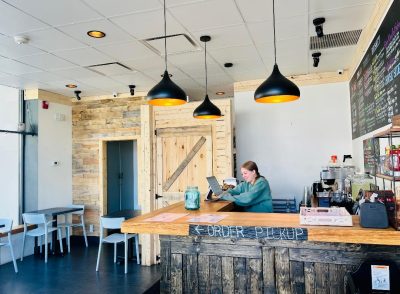 Pull up to the Little Cabin Sandwich Shop in Cortlandt Manor, and your appetite will likely be tantalized by what you smell long before you feast your eyes on any of their bread-bookended creations.
The aroma from smoking their own meats wafts to the road and the parking lot, doing a better marketing job for the restaurant than any social media influencer possibly could.
True to its name, the takeout-driven eatery seats only about a dozen, but its number of devotees runs exponentially higher. Yet owners Mariana and Steve Brophy of Mount Pleasant, who opened Little Cabin in July 2017, decided to open a second location recently in Bedford Hills more for economies of scale.
"After COVID, the industry totally changed," Steve Brophy explained. "The cost of goods skyrocketed, and even though we raised our prices considerably, the margins just weren't what they used to be. Opening another shop seemed like a way to get to where we needed to be without changing our model."
Their model was to make some of the classics – Reubens, Cubans, Philly cheeses – "but do it our way," said Mariana. "We ended up building a smoker, and that really put a twist on things. The idea of the 'Cabin' came from Steve's dad. We built out the shops ourselves, so we had a lot of control over the way they came out. The 'rustic' look is a good cover for poor carpentry skills."
Without question, Steve and Mariana point to their smoker and their made-from-scratch mantra as the twin engines propelling the success of the two Cabins.
"We run a gravity feed smoker pretty much 24/7. It runs off of mixed hardwood charcoal," Steve explained. "You can taste the difference when cooking with that kind of fire."
And nearly everything is made in-house.
"We make our mayonnaises, sauces and pretty much everything else," said Mariana. "When you put a good deal of attention on all of the details and try to make each step as good as you can, I think you end up with a pretty good end result."
The recipes for their culinary repertoire come from a combination of working long hours in restaurants and reading thousands of recipes in books.
"You take the things you really like from all over, and in the end, you have your own recipe."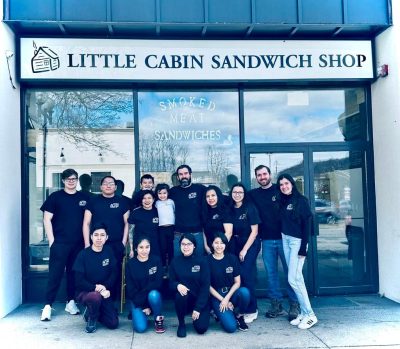 The new location in Bedford Hills offers the same menu as the first Cabin, and rotating the same staff between both locations ensures continuity of product and service. It maximizes the odds that the second location will match the 4.5-star Yelp rating and glowing reviews of the first.
Some have likened The Little Cabin to the famed Katz's Delicatessen in Manhattan, a comparison that Steve and Mariana have heard and appreciate.
"Any time you sell pastrami in this part of the country, somebody is gonna bring up Katz Deli, so yeah, we've heard it," Steven said. "We make our pastrami in-house like they do, from the brine to the smoke to the steam, so I guess there are some similarities, although Katz is an institution of its own kind."
When asked what they feel is their house specialty, the owners wisely defer.
"The same attention goes into everything, so it's up to the eater to answer that one."
The newest Little Cabin Sandwich Shop is located at 740 N. Bedford Rd. in Bedford Hills. The Cortland Manor location is at 3787 Crompond Rd.
For more information, visit https://www.littlecabinsandwichshop.com/