Popular Horsefeathers Pub Marks 40 Years in Tarrytown
We are part of The Trust Project
More Summer Bites and Pieces…
By Morris Gut
The storied towns and trails that make up the Sleepy Hollow area of Westchester certainly have their share of fables and tales. There are certainly some taverns and dining venues dotting the landscape along the Hudson River that bring out the best of it.
One must certainly be Julia McCue's popular Horsefeathers on Route 9 in Tarrytown, a pub and restaurant that has been part of the local scene since 1981.
Walk past its outdoor patio with brightly colored umbrellas and into the dining room and bar and you are greeted by a convivial staff ready to serve you.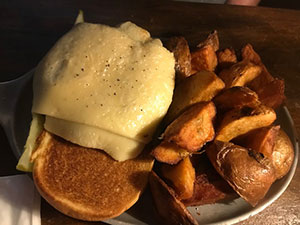 Take a look around. The vintage metal-topped wooden bar area is lined with cozy mini booths. The larger dining area is highlighted by a large wall mural depicting a cross section of our most famous authors from Hemingway to Vonnegut, with readings from each. There is a see-through divider between the two.
The menu offers a copious selection of more than 100 specialties. I decided on The Knickerbocker, their 10-ounce burger topped with "rolled in" caramelized onions and horseradish cheddar all on a soft bun, served with hand-cut steak fries. My partner had their Cobb salad with chicken, cheddar, bacon, tomato, hardboiled egg and croutons, served with a side of blue cheese dressing. (We shared.) The burger was really satisfying; the combo worked. The salad was a refreshing crunchy way to go, too.
A special thumbs up to the restaurant for creating A Moveable Feast fundraiser during the height of the pandemic. Proceeds went to help staff and essential workers in the area.
Horsefeathers is located at 94 N. Broadway in Tarrytown. Open daily for lunch and dinner. Weekend brunch is also served. Free parking in the rear. Info: 914-631-6606 or visit www.horsefeathersny.com.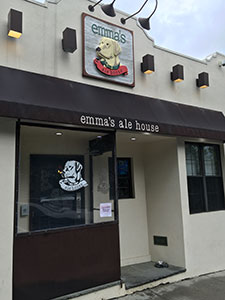 Emma's Ale House Reopens
After a 14-month closure due to COVID-19, Casey Egan, founder and owner of Emma's Ale House on Gedney Way, recently reopened the restaurant for dinner on Wednesdays through Sundays at 4 p.m. Plans are to add hours in coming weeks, according to longtime manager Catherine DeLuca. Great news for the dining public.
Since its opening more than a dozen years ago, I have always considered Emma's one of the best gastropubs in the county. Right from the start, Egan elevated his kitchen and cuisine while keeping the ambiance casual and friendly.
Glad to see some of the long-running house specialties on hand again: house-made pretzels served with mustard; crispy chicken lollipops; the Emma's burger with choice of toppings; Murray's brick chicken; Emma's country-style chophouse salad; deconstructed chicken pot pie; and weekly specials such as meatloaf and mashed potatoes and classic roast turkey. There is a fine selection of brews and wines as well.
Emma's Ale House is a longtime ode to his favorite yellow lab who is pictured on the logo and on illustrations inside.
Emma's Ale House is located at 68 Gedney Way in White Plains. Municipal parking available, which is free during the evenings. Reservations accepted. Info: 914-683-3662 or visit www.emmasalehouse.com.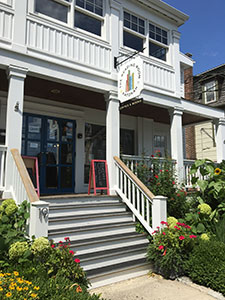 The Reading Room Returns
To the delight of their many followers, Gretchen Menzies has reimagined and reopened The Reading Room on Edgemont Road in Katonah. Walk through the blossoming patio and up the stairs and enter the multifaceted shop that is a library and a café with a daily take-out menu of fresh prepared light foods and popular ice cream concoctions from the former Little Joe's, which had been around the corner.
Rotating specialties may include a build-your-own salad option; baked goods; Veggie Banh Mi; curry chicken salad; turkey brie wrap and more. The daily menu is posted on the website.
The Reading Room is located at 19 Edgemont Rd. in Katonah. Open daily. Info: 914-334-8019 or visit www.katonahreadingroom.com.
Tasty Pizza and Shrimp at Chazz's
Finally had a chance to taste a few menu selections at Chazz Palminteri Italian Restaurant in White Plains. One afternoon I asked managing partner Tony Sinanaj to pick out a favorite appetizer for me. He obliged.
Out of the kitchen came shrimp Romano, featuring giant sauteed shrimp with spicy peppers in a creamy gorgonzola sauce over garlic bread. Plenty of decadent flavor.
On another occasion, I visited during their new happy hours from 4 to 7 p.m. and ordered one of their signature tartufo pizzas, with mushrooms, fresh mozzarella, mixed herbs and truffle oil. It was a delicious crusty share.
By the way, meatballs are back for fans of the prior establishment, Anthony's Coal Fired Pizza, which used to feature them. There are oysters for $1.50 each as well.
We were told the official grand opening will take place right after Labor Day.
Chazz Palminteri Italian Restaurant is located 264 Main St. in White Plains. Info: 914-600-8430 or visit www.chazzpalminterianyc.com.
Putnam Wine & Food Fest
The 10th annual Putnam County Wine & Food Fest will take place this weekend at Mayor's Park in Cold Spring. Wineries, distilleries, cider makers and food vendors from all over the region will be on hand. There will be arts and crafts, live entertainment and games. $25 for tasters; $10 for non-tasters.
For tickets, directions and more information, visit www.putnamcountywinefest.com.
Morris Gut is a restaurant marketing consultant and former restaurant trade magazine editor. He has been tracking and writing about the food and dining scene in greater Westchester for 30 years. He may be reached at 914-235-6591 or gutreactions@optonline.net.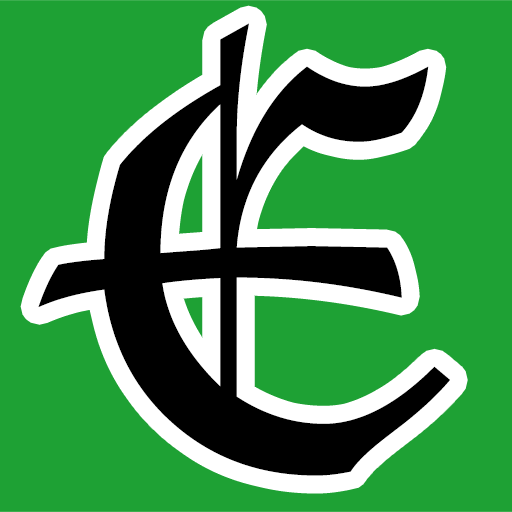 Examiner Media – Keeping you informed with professionally-reported local news, features, and sports coverage.