Political Newcomer Schulman Goes After Big Prize in Congressional Tilt
We are part of The Trust Project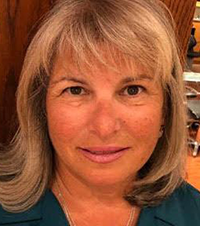 Shortly after Maureen McArdle Schulman retired from the New York City Fire Department in 2003, she would spend about a decade helping to watch over her young grandchildren.
Afterwards, when she had the time to focus on the news and the various issues of the day, Schulman had trouble recognizing the political landscape.
"I looked around and said what happened, what happed to the state I loved, the country I loved," Schulman said. "I really felt like the politicians weren't doing the best for my family, my community and my country."
Schulman, 61, a Yorktown resident since 1984, has been so troubled since last year at the state's bail reform and the state's acceptance of late-term abortions, that she summoned the gumption to run for Congress.
She entered the Republican primary earlier this year and easily secured the nomination after receiving the backing of the Westchester County Republicans.
Growing up as the lone girl in a house with five brothers helped to steel Schulman's resolve. She had hoped to become a police officer, but ultimately opted for the FDNY, and was part of the first class of 38 women firefighters in 1982.
"I was never told there wasn't anything I couldn't do, so long as you work hard and you do your due diligence, then you can do anything," Schulman said.
While New York has avoided the worst of the latest COVID-19 surge despite recent upticks, the pandemic is reaching new peaks in the nation's heartland. Despite that, Schulman advocates delegating control of decisions on matters such as mask wearing to local decisionmakers.
"I don't believe in a national mask mandate. I don't believe in a national anything," Schulman said. "I think it's worked much better on a local level. Give them the information and let them make an informed decision on it."
The same is true when it comes to reopening the economy – provide localities with the best information available, Schulman said. Likewise, if a business owner wants to mandate masks for its customer, then the patron can either comply or shop somewhere else, she said.
Schulman is skeptical of large amounts of money being sent from Washington to state and local governments. She believes that too many governments have made bad decisions and are using the pandemic to erase their deficits.
Instead, federal aid should go to small businesses. She cited some $25 million in taxpayer money going to the Kennedy Center as a misplaced priority.
"There were small businesses that really could have used that money and it went to the Kennedy Center?" Schulman said. "There are people who can't feed their kids, who can't pay their rent and we give $25 million to the Kennedy Center?"
She applauded the Trump administration for its strong alliance with Israel, demanding other NATO countries pay a greater share for protecting Europe and pulling out of the Iran nuclear deal.
While Schulman wants to see the country increase its reliance on renewable energy, she criticized the Green New Deal for its unrealistic timetables and expense. Among the safest forms of energy has been nuclear power, but one of the most important energy sources, Indian Point, is scheduled to close next spring.
"It's going to take 2,000 wind turbines to supplement that loss of power," she said of Indian Point. "Where are 2,000 wind turbines going? Where are these solar farms going? We don't have room in Westchester and Rockland County for these things."
Schulman said in order to lower the tax burden, she would work to entice businesses to come to the district, which would expand the tax base.
She opposes the Affordable Care Act and would like to see it scrapped except for the provision which protects people with pre-existing conditions. There should be greater encouragement of health savings account and for multiple businesses to form a larger group to purchase private insurance, which would lower expenses.
"I feel like every time the federal government gets involved in something, it's not the answer, it's just more of a problem," Schulman said.
Schulman is considered a long shot in the race, with Democrat Mondaire Jones seen as a prohibitive favorite. But Schulman didn't want to look back and regret not taking a chance.
"So I turned around and decided, what the heck." she said. "I don't want to turn around in 10 years and say would of, could of, should of. Let's see what happens."