News Based on facts, either observed and verified directly by the reporter, or reported and verified from knowledgeable sources.
Police Officer, K9 Partner Find Missing Elderly Peekskill Resident
We are part of The Trust Project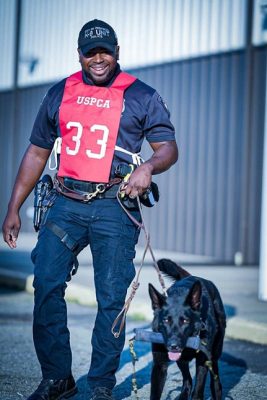 On Saturday, December 24, at approximately 1:45 a.m., Peekskill Police received a 911 call in which the caller stated he returned to his home in the Society Hill II complex to find his 75-year-old father missing.
The caller explained his father had Parkinson's Disease, possible early stages of dementia, and potentially wandered off from the home. The missing man was seen several hours earlier wearing slippers, jeans, and a sweatshirt—clothing inadequate for the dangerous outside temperatures of five-degree Fahrenheit.
According to the Peekskill Police Department, all available Peekskill officers responded to the location the missing was last seen and began a canvass of surrounding areas. A request for assistance from the New York State Police and Westchester County Department of Public Safety was also sent, with both agencies providing K9s and aviation units.
After almost 45 minutes of searching and several K9 tracks, Peekskill Police Officer Jon Saintiche and his K9 partner Bones began a new track near a dead-end portion of Winchester Avenue. About a minute in to the track, Bones began to pick up his pace and ran towards a wooded area indicating he may have found the scent he was tracking.
Officer Saintiche and Bones ran approximately 50 yards into the woods and found the missing man who had fallen to the ground and was lying atop some leaves. He was cold to the touch and unable to move, but was still alive and conscious.
After confirming his condition, several officers ran in to the woods to carry the missing subject out and placed him inside a nearby patrol car, providing blankets, hats and heat. He was then transported via ambulance to a local hospital for treatment. A family member reported December 26 that the missing man was expected to make a full recovery.
The Peekskill Police Department revived its K9 program in 2017 with K9 Charlie and handler Police Officer Anthony Nappi. In 2020, the unit grew with the addition of K9 Bones and handler Saintiche. Certified K9 handlers must undergo an extensive seven-month academy where handlers and their K9s are trained primarily in explosives detection with the ability to locate firearms and spent shell casings.
In addition, Peekskill's K9 unit is trained in patrol functions with the focus placed on tracking suspects of a crime or missing persons and article searches such as evidence recovery.