Police: Pleasantville Woman Died By Stabbing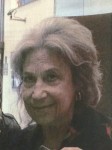 The Pleasantville woman found dead in her house on Thursday was stabbed to death, law enforcement officials said on Saturday.
Linda Falkoff, 76, was discovered at about 4:30 p.m. on Oct. 30 inside her residence at 79 Grandview Ave. following a call from a mail carrier who contacted police when she noticed that several days' worth of mail had accumulated outside the house, said George Longworth, commissioner of the Westchester County Department of Public Safety, which is investigating the murder along with the Pleasantville Police Department.
The front door was found unlocked but there didn't appear to be forced entry, he said.
"The circumstances of the woman's death were suspicious from the outset and the scene was processed as a crime scene," Longworth said. "The Westchester Medical Examiner's office has completed its autopsy and has ruled the death a homicide by stabbing."
He said detectives are enlisting the help of community members to find any living relatives of Falkoff, who was a widow and had no children, and to see if anyone from the public noticed suspicious activity in the area. Relatives of the victim have not yet been located.
Longworth did not describe details of wounds and how many there were or whether a weapon had been recovered. It is estimated that Falkoff was dead for about five days when her body was found by police, he said. Police did not reveal where in the house she was found but Longworth said that it was not in the bedroom.
He expects the investigation, which has been made more difficult because Falkoff was a collector and the house's interior was filled with boxes, furniture and debris, to last at least several more days.
Authorities assured residents that they shouldn't fear for their well-being.
"The indications are at this point in the investigation is that there's no threat to anyone else's safety," Longworth said.
Mayor Peter Scherer also sought to reassure residents that the village and the surrounding area is safe. He reminded the public that the police are on top of the investigation.
"I can report that our community is being very well served by our Pleasantville Police Department and by the Westchester County Police," Scherer said in a statement Saturday afternoon to the community. "County investigators will be active at the scene on Grandview for at least several days, and that section of the road is currently closed to through traffic to allow investigative work to proceed."
Anyone who can assist police in the investigation is asked to contact the Westchester County police by phone or text at 800-898-TIPS (8477) or to e-mail TIPS@WCCOPS.COM. All information will be kept confidential.
Check back for updates as they become available.