Poignant, Humorous Play Newest Hudson Stage Production
We are part of The Trust Project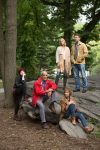 Incorporating the topics of Alzheimer's and dementia into a play might seem difficult to do if the goal is to have a funny and entertaining production.
But French-Canadian playwright Francois Archambault managed to have a winner a few years ago after he finished writing "You Will Remember Me," a touching but funny story featuring a highly respected retired professor who can recall all kinds of historical dates but can't remember what he had for breakfast.
The professor, Edouard, has his memory jarred to life by a teenage girl, Berenice, the daughter of Edouard's daughter's significant other, who looks after him, but who he confuses for a lost family member, which allows him to reinvent the past and heal old wounds.
"I like to have characters and situations that struggle between comedy and tragedy or drama," said Archambault, who wrote the play in 2012 before seeing its initial stage debut in Montreal in January 2014. "Even when I work from a realistic point of view, I try to find absurdity in reality."
Hudson Stage Company will present the American premiere of "You Will Remember Me" with a nine-performance engagement that opens at Whippoorwill Hall in Armonk this Friday, Oct. 14 and continues through Oct. 29. It stars longtime stage actor John Hutton as Edouard; Susan Pellegrino as his wife Madeleine; Susannah Schulman-Rogers as their daughter Isabelle; and Ella Dershowitz as the teenage daughter of Patrick (Chris Kipiniak).
While the story is fictional, Archambault's inspiration for the play was his father-in-law who had been suffering from Alzheimer's.
He had the play translated into English by Toronto-based playwright Bobby Theodore and has seen it performed to strong reviews in French and English throughout Canada.
Hudson Stage co-producer Dan Foster sought the play for the theater company after reading the script. Archambault said Foster is keenly aware of what goes on in the theater world and fell in love with the play.
"After the first reading, he had the feeling that he had to do it," he said.
Theodore said to successfully translate between French and English he must develop a connection with the story and characters. Although the subject matter could be considered dark, he was intrigued and struck by the relationship that developed between Edouard and Berenice.
"The meeting between a man who's in decline and a young woman who is just starting in life and how they found an emotional connection, I found very profound," Theodore said.
For Pellegrino, a veteran of off Broadway productions with several Broadway credits to her name, "You Will Remember Me" is a bit of a homecoming. This will mark the fourth time she has performed with Hudson Stage, although the first time since the theater company moved into its current home at Whippoorwill Hall.
She said producers Denise Bessette and Olivia Sklar have made working for Hudson Stage productions a great experience.
"They're so accommodating," Pellegrino said. "The producers, Denise and Olivia, are wonderful in terms of having everything you need, and of course, we're not getting huge paychecks, but I think that's one of the reasons why we do it, because the results are satisfying."
The play is also a reunion for Hutton and Pellegrino, who last worked together for the Hudson Valley Shakespeare Festival in the early 1990s. Since then, Hutton spent more than 20 years doing regional theater in Colorado.
Hutton obtained the role of Edouard through the help of his agent and immediately took to the story.
"It's so well-written, so elegantly written that I just have to show up and act normally, he said.
Performances continue on Oct. 15, 21, 22, 28 and 29 at 8 p.m., with matinees at 3 p.m. on Oct. 16, 23 and 29. Whippoorwill Hall is located at 19 Whippoorwill Rd. East at the North Castle Public Library in Armonk. Tickets are $40; $35 for seniors and students. For tickets and more information, visit www.hudsonstage.com.