Pleasantville Vows to Return After Falling in NYS Finals
News Based on facts, either observed and verified directly by the reporter, or reported and verified from knowledgeable sources.
We are part of The Trust Project
By Ray Gallagher, Examiner Sports Editor @Directrays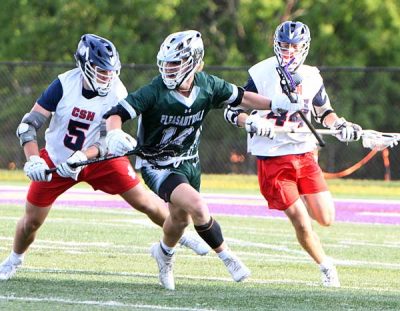 Pleasantville has a message for anyone within earshot: We'll be back, hungrier than ever, in 2024. Whatever they're putting in the water over at Pleasantville these days, they oughta patent it and secrete the formula for future generations, because what the Panthers have done between football and lacrosse the last two years has been just short of old-school Yorktown when the Huskers were tripping on back-to-back NYS football titles in 1993-94 while copping four NYS lacrosse championships from 1989-93. I remember and recollect those Huskers as the finest crop of athletes we (my colleagues) had ever covered in the last 35+ years on the local Section 1 circuit, and while the current P'Ville Panthers are a close second or third to that era of Section 1 greatness, we can't take nothing away from these Daniel Picart-lead Panthers, who came up short of their NYSPHSAA Class D title hopes in a 7-3 loss to Section 8's defending NYS champion Cold Spring Harbor last Friday at SUNY Albany.
It's been a long time since we compared anybody to those vaunted Cornhusker clubs, but these recent Panthers have certainly conjured up memories with both their runner-up status in the 2021-22 NYS Class B football championships and last weekend's Final 4 appearance for a team that loses just two seniors to graduation (and zero starters).
Just to be in that same sentence with those Huskers tells you all we need to know about Pleasantville Coach Chris Kear's lacrosse program, which fell two wins short of its second NYS title since 2018, and Coach Tony Becerra's football program, which is the odd-on favorite to finally secure a state title in the fall off 2023 after coming up short in a pair of state finals in 2021-22.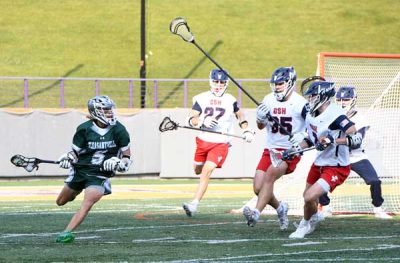 What Coach Kear and Becerra have pulled off the last couple of seasons is the stuff of legend, whether it's the water, the multi-sport buy-in, the coaching, the brotherhood… it's a run of greatness few schools have ever seen. To a man, the Panthers have vowed a return in 2024.
"We've played together since we were in elementary school, so I'd say the brotherhood runs deep for us," Picart said. "Plus, having the entire community behind us is a huge support."
After averaging 13 goals per game this season, the state-ranked (No.2) Seahawks' defense limited the number of looks for the top-ranked Panthers by bringing the game to a crawl, milking clock and making the most of their possessions. The game was delayed earlier this week by diminished air quality from the Canadian wildfires, and the Panthers (19-2), who also endured a three-hour game-day rain/thunder delay, never seemed to catch up, never got in a groove and failed to finish the majority of their opportunities.
Panther A Nick Reich (2G) put Pleasantville up early, leading 1-0 with 7:27 to go in the first, but CSH drilled the next three goals. Emmet McDermott set up Aidan Cotter three minutes into the second quarter, but the Panthers gave up two more goals and trailed 5-2 at the break.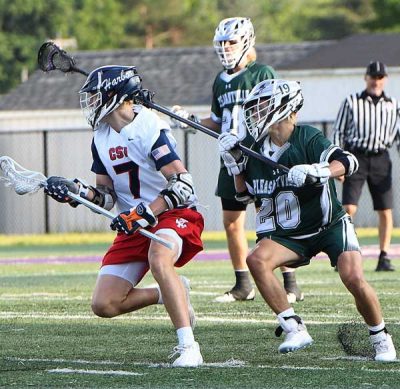 CSH went on to crush Section 3 champ Marcellus, 12-5, in Sunday's state championship, a venue the Panthers expect to be at in the spring of 2024.
"We are returning all our starters, and now we've gone through the loss in the final four," Picart said. "We will have the experience under our belt and can only learn from it. Be a wonderful thing to achieve two chips next school year."
Section 8 sent four teams to the state finals in Classes A, B, C and D, the Long Island powers winning three titles (Garden City in B, Manhasset in C, CSH in D). Only Class A Farmingdale lost, 9-5, to Section 3 Baldwinsville. Yeah, man, #LongIslandStillLaxKings. Section 1 did not send a single team to the finals despite having three clubs reach the semis: Scarsdale in Class A, Rye in Class C and Pleasantville.