Pleasantville Schools Schuylerville, 15-5, Advances to NYS Class D Final 4
News Based on facts, either observed and verified directly by the reporter, or reported and verified from knowledgeable sources.
We are part of The Trust Project
Yorktown Ousted by Nisky in NYS Class B Quarters
By Ray Gallagher, Examiner Sports Editor @Directrays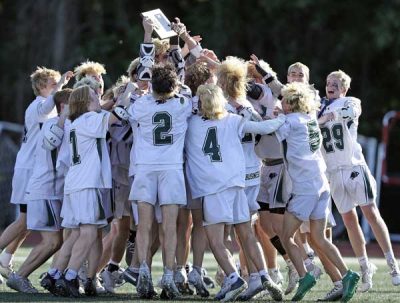 Pleasantville junior All-American middie Daniel Picart is one of those players who can essentially dial up a game-plan in his head and execute it to perfection, knowing full well what it takes to get the job done. His will to win is second to none among the 2023 Section 1 lax athletes (not to mention football & basketball), and that desire was on full display when Picart went off for five goals, the vast majority of which came during a 12-0 game-sealing run in the state-ranked (No.1) Panthers' 15-5 NYSPHSAA Class D Region 1 championship victory over Section 2 champion Schuylerville Saturday night on the campus of Mahopac High.
The triumph placed the Panthers (19-1) in Wednesday's 4:00 p.m. NYS Final 4 against state-ranked (No.2) Section 8 champion Cold Spring Harbor at SUNY Albany. A win against the formidable Long Island champ would pit Coach Chris Kear's Panthers against the winner of Section 3 Marcellus vs. Section 5 Penn Yan in Saturday's 5:30 p.m. championship at Hofstra University on Long Island.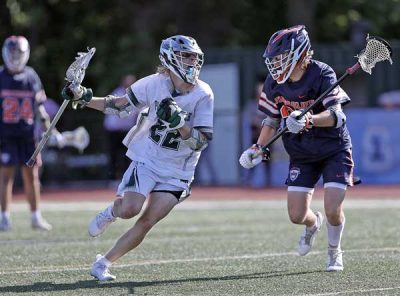 Panther Shane Mueller notched a hat trick and set up another goal while Erik Coleman, who has feasted in the postseason, added yet another hatty, and freshman Braden Feeney scored his first goal, as the Panthers played nearly a complete game after a shaky start that saw them trail 2-0, much different from their 10-8 Section 1 title win over three-time reigning sectional champion Briarcliff last Wednesday when the Panthers hung on for dear life down the stretch.
"The goal was always to win league, win the section, win the region and win states," said Picart, who also won the NYS Class B Football Player of the year last fall. "They all can't be pretty. It's going to be fun playing teams we have not seen before. We're looking forward to the challenge ."
Once Picart tied the score at 3-3, Pleasantville never trailed again. Pleasantville's Michael Hundzynski dished four assists and tickled twine once while Nick Reich and Hank McCourtney each posted a goal and set up two more. Brayden Feeney added a goal for the Panthers, who saw versatile G Andrew Nessel (10 saves) do his thing between the pipes.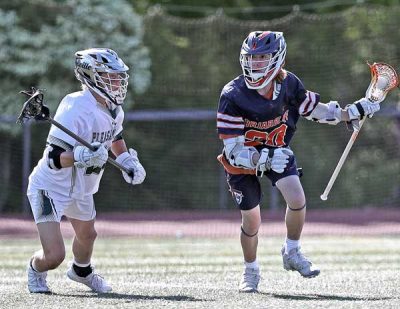 Against Briarcliff (9-11), the state-ranked (No.5) Bears would not go quietly. Gritty Bear Alex Kirshenbaum's third and final tally cut the deficit to just two goals with plenty of time remaining, but there was some unforced errors (from both clubs) down the stretch, which ultimately provided the Panthers with enough possessions to milk enough clock to eliminate a Briarcliff club that had no quit in it all season and a bright future ahead under Coach Alfredo Meola, among the most liked and respected in the section.
James Foy (1G, 2A), Lucas Proctor (2G), Harrison Winger (1G) and Bobby Colangelo (1G) all found the back of the net while Briarcliff All-American LSM Luca Meola had a pair of assists. Briarcliff All-Section G Jameson Wong made 10 saves, several spectacular, which kept the Bears from being blown out in the first half.
P'Ville junior M Coleman found his way to the cage early and often, tickling twine four times and dishing an assist as the player of the game in the eyes of many, especially after forcing a late turnover. Michael Hundzynski (2G, 1A), Picart (2G), Meuller (1G) and Reich (1G) scored pivotal goals for the Panthers while McCourtney set up a pair of goals. Nessel's defense stood tall for the most part, needing just five saves for the win, which was very much in doubt before a pair of fourth-quarter ejections erased a potential game-changing edge for the Bears.
Instead of playing 6-on-3 for three minutes, Briarcliff was man-up for only a minute, then 4-on-4 for a minute, before going man-down for a minute. Foy triggered a run and Kirshenbaum bagged two more to put the fear of God in Pleasantville, which has had lapses from time to time, but held on.
"I'm glad we made it close in the end," Meola said. "It's definitely not how I wanted it to end, but I know we left it all out there for sure."
CLASS B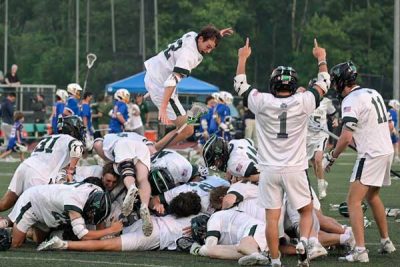 Of the many significant factors that changed between Yorktown's first game with Mahopac back on May 4 – an 8-7 Mahopac win – and last Tuesday's Section 1 Class B championship game – an 11-5 Yorktown win; three things really stood out.
First, the vaunted Yorktown defense came to play in Tuesday's title tilt, which it did not do in the first meeting between the two state-ranked powers, Mahopac, No.4 and Yorktown, No.6.
Secondly, junior middie Ryan Vogel did not play for the now 41-time Section 1 champion Cornhuskers (13-7) in Round 1, and the kid was clutch in the early going, setting the tone with two scores and an assist.
Tertiarily, and perhaps most importantly, sophomore FOGO Chad Bowen did play in the initial encounter, but not particularly well, thus handing the Indians numerous opportunities for possessions they often cashed in on.
Well, Bowen wasn't about to face the scorn of the Yorktown coaching staff again, so just as pivotal as junior middie Andrew Weissman's five-point effort (3G, 2A) was, so too, was Bowen's dominance at the X where he won 67% of his draws.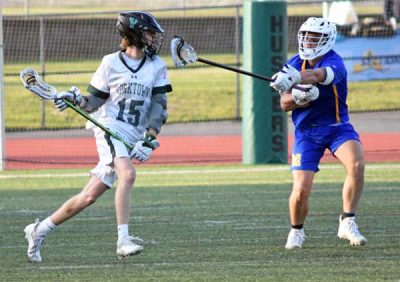 "So I punched through the line every time he raked," Bowen said of his opponent. "I just had to watch a lot of film and adjust to what he did. Our wing play was great off the draw. Huge wing play, huge wing play. Without them I wouldn't have been able to do that. They got a lot of ground balls for me. I took the last game against them personally, and I'm happy to do it with these guys because we love this game."
No matter how much the Huskers love the game, it didn't help in Saturday's NYSPHSAA Class B regional championship where Yorktown was schooled by Section 2 champion Niskayuna, who took advantage of both early and late defensive breakdowns en route to a 7-4 win over Yorktown at Mahopac High School. Succinctly, Nisky put on a defensive clinic and advanced to the NYS Final 4 at SUNY Albany Wednesday.
Yorktown junior M Andrew Weissman (1G, 1A) tied things up at 3-3 with five minutes to go before halftime, but the state-ranked (No.5) Silver Warriors (18-2) closed the half on a 2-0 run and scored one more out of the break to take a 6-3 lead into the fourth. Huskers Ryan Vogel, Jack Duncan and Connor Fastiggi each scored unassisted goals while G Hunter Mezzatesta made 15 saves, many point-blank.
The Yorktown coaching staff was rough on the defensive unit and tough on Bowen after the first Mahopac game, deservedly so. Husker Coach Tim Schurr let them know the difference between just putting on the Yorktown jersey and representing the Y with pride #BigDifference.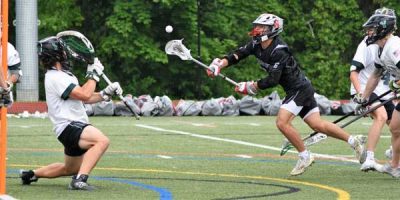 "Chad Bowen's been working real hard," said Coach Schurr, a former Husker champion. "Colin Houlihan, probably the MVP of our coaching staff after this one, works with Chad every day he's able and it's clearly made a difference. The last game (against Mahopac), I think the defense let the team down. We wound up in the penalty box an awful lot and they capitalized. We were really soft on the inside against them, and they're an excellent team… good at all spots on the field. So, I'm really proud of the defense today. They all stepped up and played hard. Everyone of these guys contributed to our success today.
"It feels great to get this one for the kids and the community," Schurr added. "Coach Colarusso kept kidding with me, saying I was going to get fired if we didn't win it, and I think he meant it. I'm just happy to be a part of this; we have a great team, great coaches and players that play hard all the time. The support here has been very good. Parents are great, scorekeepers are great, there are no negatives here."
Not many coaches can say that these days, especially when the program had been skunked in four consecutive title losses to John Jay CR (2018-19) and Rye (2021-22). There was no tournament in 2020 due to COVID, so this victory was a long time coming for a program that carried the weight of the world on its collective shoulders. Seven-time NYS champion Yorktown placed its 41st title plaque on the hallowed halls on a day when the Huskers appeared in their 51st championship game since 1972. All but one time (1979) – since 1972 – Yorktown has been to the sectional championship: With title streaks of 17 in a row (1980-96), eight consecutive (1998-2005) and seven more (2011-17). Now, that's pressure.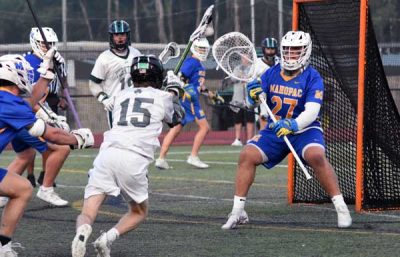 Weissman was a menace for the Indians, who played their final game in school history as the Indians, much to the chagrin of many within the community, who oppose the name change to WolfPac. Weissman, a junior midfielder, was a key stimulus of the offense, finishing with three goals and two assists.
Third-seeded Mahopac (13-6) saw senior A Jake Degnan notch a hat trick while junior M Danny Koch had a goal and two assists and senior M Gavin Viglucci scored once, but the normally-proficient Mahopac offense was a far cry from what it had been all season, including a win over Niskayuna in early May. G Tommy Jacobellis made seven saves, but the Indians were outhustled on ground balls and did not look like a team completely focused on what would have been its first title sectional since 2011.
"Ground balls win games, faceoff play and wing play played a pretty large part in the loss," Mahopac Coach Jon Bota admitted. "We couldn't get a hold onto a possession and had the tough momentum swing we had to overcome going into halftime.
"All around it was a special year," he added. "We thought we had a real good shot to get it done, but Yorktown executed and the ball was bouncing their way."
Vogel scored twice and dished an assist, triggering an early Husker run, making a huge difference.
"I was out for quite a while with a hip injury," Vogel said, "so when I was able to finally get my time I had to go all out, put the pain behind me and do whatever I could do to help my team win this game. We game-planned well for this game and our coaches knew what they were doing. We moved it well and everyone was amazing today. Chad (Bowen) played amazing today. Our coaches rode him hard, he was like the only one running and stuff and it really paid off. It feels great to win this, especially for these seniors."
Duncan added one goal and one assist. All-American selection and LSM Chris Constantine, Schietinger, Connor Fastiggi, Gianluca Marchini and Aidan Boyle each scored once for the Huskers. Mezzatesta needed just five saves against a sub-potent Mahopac attack.