Pleasantville Residents Demand Village Take Steps to Curtail Development
News Based on facts, either observed and verified directly by the reporter, or reported and verified from knowledgeable sources.
We are part of The Trust Project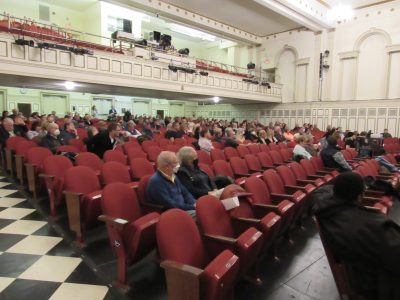 The escalating pace of development in Pleasantville prompted about 100 village residents to register deep concern last week about how the community is being negatively impacted.
For more than three hours at a Nov. 16 special Town Hall-style meeting at Pleasantville High School, community members criticized the number of projects approved in recent years, fearing a large influx of new residents, straining infrastructure and emergency services.
Drawing the most attention was the Memorial Plaza project scheduled for completion next year, housing at 52 Depew St., the mixed-used project at 39 Washington Ave. and the Toll Brothers townhomes on Washington Avenue. When all are completed, those developments will account for 189 rentals and 68 townhomes.
"I am not against development," said former Pleasantville trustee Jonathan Cunningham. "It's an essential element to maintaining a vibrant and robust community. But too much too fast can be unhealthy and lead to unforeseen and negative consequences."
The projects could increase Pleasantville's population by up to 5 percent, he added.
"The implications on our infrastructure and on emergency responses alone could be significant, especially involving our volunteer ambulance fire departments," Cunningham said. "There's a public safety aspect to this, too, that really needs to be investigated."
Frequently raised was how an increase in population would increase traffic congestion, compounding the difficulty of driving through the village, including parents picking up children from school.
Resident Noelle Nikolai, a parent of a first-grader at Bedford Road School (BRS), said adding more people into the community will cause problems.
"Right now, if you were driving from Roselle (Avenue) to BRS, and you hit traffic, you could actually jog it faster than you can to get through to Jean-Jacques," she said. "That's absurd in a one-mile town."
Frequent bursts of applause were heard throughout the evening, especially for those who harshly criticized the aesthetics of the Depew Street and Memorial Plaza structures.
Some blamed the planning and architectural review boards for those projects.
"The development on Depew Street is shockingly ugly," said Nancy Conforti, a 20-year Pleasantville resident. "My main issue is to keep this a village, don't make it into a city."
Village Trustee Nicole Asquith said the Planning Commission is examining the original plan submitted by the Depew Street developer. She said there's an apparent discrepancy between the plan and what's been built.
Longtime resident Joanne Homlish, a graduate of Pleasantville High School who has raised her children in the village, said both Memorial Plaza and Depew Street are wrong for the community.
"And as far as the Depew Street building, I thought I was back in East Berlin at a Soviet Union housing unit," Homlish said. "It's just not acceptable."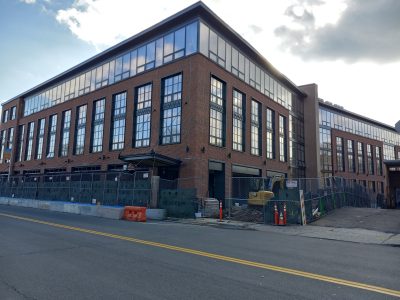 According to Pleasantville Building Inspector Robert Hughes, the Planning Commission and Architectural Review Board (ARB) were merged because there weren't enough volunteers to create two separate boards. The last ARB meeting was in July 2020.
Comments also focused on the effectiveness of Pleasantville's zoning laws. Suggestions were made to revamp the 2017 Master Plan and create standardized, architectural guidelines for developers.
Trustee Michael Peppard addressed repeated calls for a village moratorium. A pause in construction could have unintended consequences on private property owners.
"One of the challenges to enact a land use moratorium would be (that the term of the moratorium would be) very short, around six months," he said. "If we have to have a valid reason, such as safety implications Jonathan was talking about, that could hold up in a court of law."
The board responded to a wide range of questions, presented background information, including the current trend of declining school enrollment, village operating budgets, tax rates and how current development projects are zoning compliant. New development generates fresh revenue, which pays for future projects such as water infrastructure improvements that are estimated to cost $10 million, officials noted.
The Memorial Plaza project, with 7,691 square feet of street-level retail space, helps keep the downtown vibrant, said Trustee David Vinjamuri.
"Villages around the country are dying," he said. "Nobody really knows how to maintain a vibrant downtown in an era when Amazon is killing retail in the country. Having a vibrant downtown makes it possible for us to pay for projects such as a new pool."
During the forum, Mayor Peter Scherer announced that an offer was made on a village-owned parcel on Cooley Street behind the post office. The land was purchased by the village in 2012 for a little over $1 million and was turned into a parking lot. The 70 Memorial Plaza developer is making the offer, which is substantial, he said.
"There is an offer on the table and the board is very much interested," Scherer said.
Objecting to that idea was Richard McSpedon, a 22-year Pleasantville resident, and a Westchester County Industrial Development Agency member.
"With this turnout here today, to hear that you are looking to sell a town-owned piece of property right now feels like a slap in the face," McSpedon said. "It's enough. Take a pause."
He suggested the village bargain with developers who want their projects to be financially viable by asking them to make contributions to maintain green space or toward Pleasantville's parks and recreation facilities.
Additional development is proposed at 2 Great Oak Lane, site of the Girl Scouts headquarters. It's a 1.26-acre parcel that sold for $2.3 million and is expected to be subdivided into six lots for a pair of two-family homes and four one-family homes.
Scherer said he understood there were concerns, and the village will schedule additional forums.
"We will need to take time to get to the point where everybody understands what's going on," Scherer said. "There are a bunch of issues we have to address and we will."
Village Trustee Paul Alvarez applauded the residents who attended and encouraged others to get involved.
"If you are passionate about this and want to make change, this is the time to get involved," he said. "We are your neighbors and we are trying to do our best. At the end of the day, we are all trying to be all one Pleasantville."
A recording of the forum can be viewed at http://pctv76.org/embed.php?f=WM