Pleasantville Man Searches for Kidney Donor to Save His Life
We are part of The Trust Project
Phil Alderman is hoping that someone will step forward and give him a new lease on life.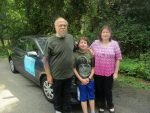 The Pleasantville resident is searching for a kidney donor, who would allow him to live a full life without fatigue, the debilitating effects of dialysis and uncertainty about the future.
His quest is to find a living donor who is a compatible match. The search Alderman and his wife, Elisabeth, have undertaken, which includes networking on social media and affixing signs to their cars, is more urgent because the estimated waiting period in New York State for a cadaver kidney for someone who has Type O blood is six to seven years.
Alderman has also been working with Renewal, a Brooklyn-based organization that assists families who are awaiting a transplant as well as the donors.
Last year, he went through the process of being entered on the donor registry but it is estimated that a kidney from a deceased donor typically functions properly for about eight to 10 years.
"(With) a living donor you can pretty much have a normal life," Alderman said. "It's not like (there's) a deadline, whereas the cadaver kidneys don't last."
So far, Alderman, 62, a school psychologist at a Brooklyn middle school, has been able to manage with kidney function that is now at about 16 percent of what a normal functioning pair of kidneys would provide.
He said he's almost at the threshold where dialysis will be needed. Alderman's nephrologist said he's a good candidate for training for at-home dialysis, which is done nightly while the person is sleeping, rather than going to a center three days a week. That would cause difficulties with his work schedule. The at-home option also is preferred because the process of removing the excess toxins from the blood is done on a regular basis, he said.
So far, he's been able to hold on through a strict diet – Alderman has been a longtime vegetarian and about a year ago transitioned to veganism – and plenty of rest, but there is only so much he'll be able to do.
"My nephrologist at Columbia has been impressed with how I've held onto the functioning that I have," Alderman said. "It fluctuates but he thought I'd be on dialysis three, four years ago."
He reached out to relatives and friends, but because of blood type, age or other health matters they cannot donate a kidney. His wife, Elisabeth, wasn't able to provide him with one of her kidneys because she is a breast cancer survivor.
Alderman's search for a kidney is also heightened because his son, Ethan, is only 10 years old and still needs his father.
"We want him around," Elisabeth said. "He's a wonderful husband and father."
"You lose a father and the difficulties that some children will face having something like that happen…I really want to be there for my family," Alderman said.
Alderman has faced the prospect of kidney failure for about 20 years. At that time, doctors told him that there were some irregularities with the shape of his kidneys and that they contained cysts. He also suffered from kidney stones.
Then the protein levels in his blood continually increased to the point where he needed to see a nephrologist.
Aside from the fact that he has a young son, Alderman said he doesn't want to stop working because he loves his job. He actually works at the same middle school that he attended as a child.
"It really is very gratifying," Alderman said. "I really feel like I'm giving back to the community. Even though it's a long commute, I love working there. I find that I love my co-workers. I put up with a horrible commute because the job is wonderful."
That commute requires him to leave his house between 4 and 5 a.m. on school days and he doesn't return until after 5 p.m. That leaves him exhausted when he's home and he is forced to go to bed about 7:30 or 8 p.m. each evening. Alderman is so used to the schedule that even on weekends and holidays he needs to go to bed at that hour.
"It makes the work more difficult because I'm tired when I'm at work," he said. "I have to stay with it. The work is rigorous but it really affects my quality of life."
Through his ordeal, Alderman and his wife have tried to remain upbeat, although he acknowledges that he has his low moments.
"I'm getting the word out that I'm in need of a kidney because there are some wonderful people in the world and there are so many on social media that have really reached out to us and offering their prayers and being supportive of us," Alderman said.
For more information on how to help Phil Alderman, contact Renewal at 718-431-9831 ext. 209 or e-mail at R23741@renewal.org. When referring to Alderman, his case number is part of the e-mail address.