News Based on facts, either observed and verified directly by the reporter, or reported and verified from knowledgeable sources.
Pleasantville Enacts Moratorium for Central Business District
We are part of The Trust Project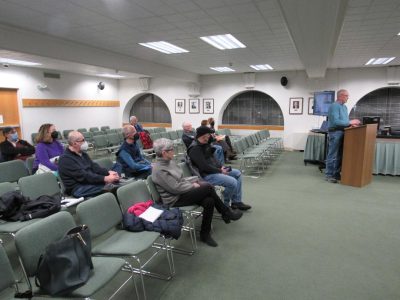 The Pleasantville Village Board voted unanimously last week to enact a six-month moratorium on new building in Pleasantville's Central Business A1 district retroactive to Nov. 16.
Last Monday, the board held a public hearing prior to the vote. About 15 people converged at Village Hall for the hearing with a similar turnout online.
Resident Tom Rooney said more development would be a hardship on the community, stretching the limits of its infrastructure and resources, particularly the police and fire departments.
"When there's more people, more buildings, there are more reasons for the fire and police to be called out to something," Rooney said. "Right now we are absolutely stressed beyond control and our systems are working hard."
Former village trustee Jonathan Cunningham criticized the moratorium for not being sufficiently expansive.
"Some larger developments are on the horizon that are outside of the A1 district," said Cunningham. "We should include the entire village border as a part of the moratorium. The A1 district is a start, but I don't think its large enough for a holistic decision-making process that's required."
Mayor Peter Scherer said the A1 business district was chosen for the moratorium because it is the most likely zone for multifamily housing.
"Most residential zones don't permit multifamily housing," he said. "I think we are aiming in the right place. The idea of reconsidering the entire village zoning is a very large project and one that could go on for a long time."
One proposal, redevelopment of the Chase Bank building on the corner of Bedford Road and Wheeler Avenue, is within the district but the property owner is expected to seek an exemption.
In the upcoming months, village consultant BFJ Planning will study potential future development under the current zoning regulations and the potential impacts on public safety, infrastructure and traffic. BFJ Planning worked on updating the 2017 village Master Plan and is being paid $30,000 for the work.
Resident Joanne Carroll Hamlish remarked how over the years buildings in the downtown have changed.
"My concern is the architectural design of what we will allow," said Hamlish. "If we want to keep the feeling of the village I think we have to give more guts to the architectural review and we have to plan what we want this village to look like."
The Westchester County Planning Board gave its approval for a moratorium in a Jan. 3 letter to the Village Board. While the letter from county Planning Commissioner Norma Drummond praised Pleasantville's efforts in building more transit-oriented development in the village's downtown, she commented on a potential chill the moratorium could have on the development of much-needed housing in the county.
"While we agree that the Village should have an opportunity to enact a moratorium to conduct an assessment of existing zoning, we urge the Village to keep within the six-month timeframe of the proposed moratorium," Drummond stated.
Discussed at length during the hearing is a proposal called the New York Housing Compact that was mentioned by Gov. Kathy Hochul in her early January State of the State address that would require downstate New York municipalities to increase housing stock by 3 percent in three years. It would also force communities to rezone within a half-mile radius around train stations for transit-oriented development. More details are expected this week when Hochul will introduce her Fiscal Year 2024 budget.
Affordable housing was also addressed by village Trustee David Vinjamuri, who requested the issue be included in the study.
"We need to think of whether the 10 percent of affordable housing that is (now) required is adequate," he said. "There is a national housing crisis and a significant affordable housing crisis in our county. It impacts people who run businesses that hire people who are paid low wages and who can't afford to live nearby."
Vinjamuri said he supported the moratorium but thought the process of getting feedback from the community was flawed.
"We've heard almost exclusively from homeowners," Vinjamuri said. "We have not heard from the one-third of villagers who are renters and the 28 percent of villagers who are non-white. We've also not heard from people who are busy or who are happy with what's going on."
Trustee Nicole Asquith commented on the positive impacts of affordable housing that would serve empty-nesters, seniors and young adults. She referenced moderate-income housing recently built in Croton-on-Hudson.
"The housing was built in order to have more people that will participate in their local firefighting efforts," she said. "People who will volunteer are sometimes being priced out in these communities."
Trustee Paul Alvarez said the board will do its best in making decisions going forward.
"We will look into every possible effect that this can have and together we will continue and see what avenues we can explore," Alvarez said.
Exempt from the moratorium are retail spaces measuring less than 4,000 square feet, applications submitted before Nov. 16, 2022, for area variances for one- and two-family dwellings, permit applications not requiring approval from a land use board and applications relating to work for health and safety.
The Nov. 16 date was chosen because that was when a town hall forum on development was held that drew about 100 residents.
Village documents related to the moratorium can be viewed at
https://pleasantville.novusagenda.com/AgendaPublic/CoverSheet.aspx?ItemID=4028&MeetingID=554.