Pleasantville Emerges as Class D Favorite, Shocks SWR in OT
News Based on facts, either observed and verified directly by the reporter, or reported and verified from knowledgeable sources.
We are part of The Trust Project
Somers Upends L/P; Haldane Notches Belt in Win over Hen Hud
By Ray Gallagher, Examiner Sports Editor @Directrays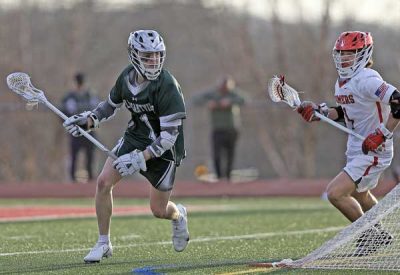 It's beginning to look a lot like PLEASANTVILLE junior M Daniel Picart is every bit as good a laxer as he is a football player. The three-sport Panther star was hostile and agile, bagging a career-high seven goals in P'Ville's 13-5 win over host SOMERS last Tuesday, proving he's every bit as good on the lax green as he was during the 2022 grid campaign when he copped NYS Class B Player Football of the Year honors last November.
Pleasantville's defense – led by Aidan Picart, Ethan Berger, Tyler Challice, Brian McPhee and G Andrew Nessel (10 saves), wrought havoc on Somers, creating turnovers and erasing any sort of Tusker transition. The Panthers (4-0) are building a case for early-season Class D favorites, shoving Bronxville aside as the two jockey for the top seed in the upcoming Section 1 tournament.
If the convincing win over Somers wasn't enough, the host Panthers then went out Saturday and nipped nationally-ranked (No.15) Shoreham-Wading River, 15-14, in overtime, touching off a madcap celebration the boys will never forget when Picart (2G, 4A) found junior M Erik Coleman (2) for his third goal of the game.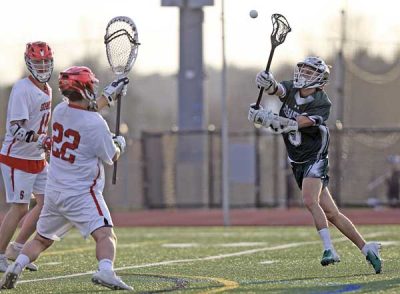 "I think we're starting to mesh a bit more every day, but this is only the tip of the iceberg," said Picart, who has produced 16 goals and six assists after four games. "We know we aren't even close to where we know we can be in May. So, we're confident in our guys to continue to get extra work in as we have been since before the season to help us accomplish the goals we have."
The Panthers trailed SWR 14-12 late in the second half, but Michael Hundzynski scored unassisted with 3:24 left in the fourth quarter to get within one, 14-13. Daniel Picart scored unassisted with :58 seconds left in regulation to tie the game 14-14.  SWR won the ensuing face-off and called timeout. Pleasantville's defense got a timely stop, including a save with less than :30 seconds left by Andrew Nessel, his 10th save.
In overtime, Hundzyski gained possession on the first face-off and P'Ville called timeout. On the next possession, Pleasantville turned the ball over, resulting in a S-WR fast break, but it lost possession on an errant pass. Nessel scooped up the loose ball and heaved it forward to Daniel Picart at midfield. While under pressure, Daniel Picart found Coleman unguarded in front of the goal for the game-winner in sudden victory.
The standards set in the past at Pleasantville – both on the lax green and the gridiron – mandate one thing: Winning championships. The Panthers are set up to win their first sectional title since winning four straight in 2018 while appearing in six sectional championship games between 2013-18. Lacrosse isn't some passing fancy at P'Ville, and Danile Picart has some legit company on offense. Nick Reich (13G, 4A), Coleman (9G, 5A), Hundzynski (8G, 1A), Hank McCourtney (2G, 6A) and Emmet McDermott (8G, 10A) have provided multiple points for an attack/midfield as formidable and as athletic as any in Section 1, perhaps NYS Class D #WeShallSee #AllBusiness.
We told you in our preview edition that Bronxville and Pleasantville were the cream of the crop in Class D this spring, and, to date, nothing seems to dispel that hunch, but there's lots of time to determine championship contenders from Class A to Class D, but the early indicators seem to suggest Pleasantville will flourish with a deep postseason run.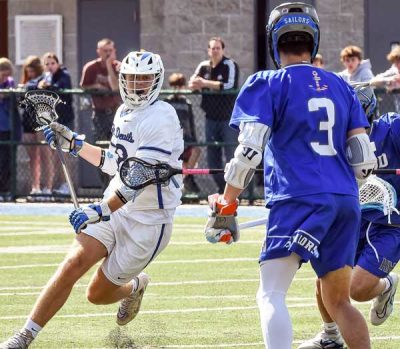 Class D HALDANE put up one of its biggest wins in recent memory, posting a 16-12 win over Class C HEN HUD behind five goals and two assists from Liam Gaugler. Fallou Faye (4G) and Evan Giachinta (3G, 4A) added to a seemingly unstoppable attack. Nate Stickle (2G, 1A), Frankie DiGiglio (1G, 2A) and Rhys Robbins (1G, 2A) each produced a three-point effort for the Blue Devils (3-1).
Dean Hiltsley and Thomas Popolizio put up seven of the Sailor goals.
"Fallou, Evan, and Liam played outstanding," Haldane Coach Eddie Crowe said. "They showed poise and play composed. Liam scored all five of his goals in the second half. Those three combined to score 12 goals in total and assisted on six goals. Our defense also stepped up, including Nate Stickle, PJ Ruggiero, Thomas Tucker, Brody Coreless and goalie Jordon Hankel.
We also won 19-of-27 from the face of X between Dylan Rucker and Brandt Robbins."
Haldane went on to suffer a 13-6 loss to Mahopac later in the week.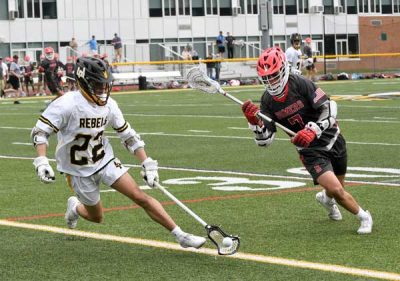 In other Class D action, BRIARCLIFF handled Nanuet, 16-6, when Lucas Proctor (5G) and Josh Newman (4G) combined for nine goals to lead the reigning NYS regional champion Bears (2-3), who are still trying to figure out where their deficiencies lie in early April. Bobby Colangelo (2G, 1A) and Alex Kirshenbaum (1G, 3A) added to the foray.
PUTNAM VALLEY started off 2-0 but met its match in a 15-7 loss to Eastchester. Chris DeGiorgio and Angelo Sirico each scored a pair of goals for the Tigers, who are young and talented but might be a year off from serious contention.
CLASS B
YORKTOWN, like it always does, put itself to the test last week when the Huskers (0-2) squared off against Long Island powers Cold Spring Harbor (an 8-7 loss) and nationally-ranked (No.10 @ Inside Lacrosse) Chaminade (14-4).
In the Huskers' 8-7 OT loss to CSH, Drew Weissman and Ryan Vogel (2G) tallied in the last minute of regulation to force OT. Husker M Chad Bowen won the ensuing faceoff, but a Yorktown turnover provided possession for the Seahawks, which they converted for the victory. Chris Constantine had two goals for Yorktown while senior A Jack Duncan added a goal and two assists. Husker freshman G Hunter Mezzatesta recorded 13 saves and impressed goalie Coach Joe Colarusso, an all-time Husker great at the position. They may be 0-2 now, but the Huskers will be the most battle-tested Class B team when sectionals roll up, and that coaching staff is the bedrock for postseason success.
MAHOPAC visited an invigorated HALDANE club, which was coming off a monster win over HEN HUD, but Mahopac sniper Jake Degnan buried four goals in a 13-6 Indian win. Ryan Geohaghen added a hat trick and one assist while Danny Koch and Mike Rettberg finished with two goals and one assist for the Indians (1-2). Mahopac M Chris Morris won 16 of 21 draws to facilitate possession.
Indian senior Gavin Viglucci scored three goals and added an assist in Mahopac's 15-9 loss to Ridgefield (CT). Degnan had two goals and a pair of assists while junior Koch put a pair between the pipes.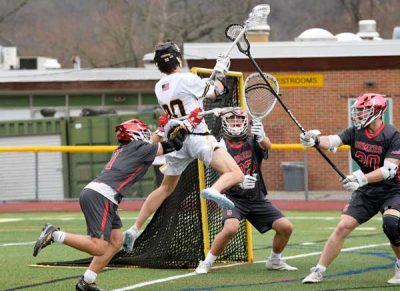 SOMERS took a big step forward in an 8-5 win over host LAKELAND/PANAS Thursday, doing so behind Ryan Brush, Grayden Carr and Miguel Iglesias, who each scored a pair of goals for the Tuskers (2-2), thus erasing a 2-0 first-quarter deficit. Somers junior Mac Sullivan was the man, drawing slides, netting a goal and dishing three assists for the Tuskers, who dominated possession on account of middies Anthony Moschides and Matt Mayfield, who won 12 of 16 on faceoffs. L/P sophomore Oban Rader scored twice and Kyle Gallagher set up three goals. L/P offered a statement win earlier in the week in a 9-6 triumph of defending Class D champ BRIARCLIFF when Rebels Thomas Kuney and Will Moore each notched a hatty. Rader (1G, 2A) and Anthony Farroni (13 for 19 on faceoffs) showed major promise and goalie K.C. Bryan had nine saves for the Rebs (2-2). Kirshenbaum (4G) was the only Bear to have his way.
FOX LANE's Declan Connors snapped a 6-6 tie in the waning minutes of the Foxes' 7-6 win over OSSINING, who had trouble controlling Owen Baker (2G, 1A) and Jordan Gruber (2G). Mike Zinzi (1G, 1A)  and Jack Cicchelli (1G, 1A)  helped to offset Pride sniper Jacob Miller (hat trick). The Foxes (3-1) went on to lose to Pelham, 8-3, later in the week.
HORACE GREELEY is off and running with a 2-1 start with wins over Rockland's Clarkstown South and North Rockland. The start bodes well for the Quakers.
CLASS C
In HEN HUD's 12- 9 over Pearl River Dean Hiltsley, who recently went over 100 career goals, put five more between the pipes for the Sailors and Thomas Popolizio added a hatty and four assists. Hen Hud (2-3) scored three times in the last 2:16 after the Pirates twice got within a goal.
"We got out to a 9-3 lead," Hen Hud Coach Troy Lepore said. "Pearl River came storming back to make it a one goal game at 9-8 and 10-9. We scored three goals to end it."
Dylan Lennox (2G), James McManus (1G) and Dean Pastalove (1G) posted key goals and G Joey Connolly (16 saves) came up big.
BYRAM HILLS improved to 2-0 in an 18-5 thumping of Brewster when Erik Cipriano popped four goals while the Bobcats also got five points from Zach Pero (3G,2A) and three goals and one assist from Ethan Schwartz. Byram has an interesting game coming up on April 11 against Putnam Valley, which will be looking to make a statement win against a quality Class C club. Josh Walsh scored three goals for the Bears.
BREWSTER's Jason Weller scored five goals and Joe Anfuso had two goals and two assists in a 14-12 loss to Wappingers. Luke Cunningham (2G, 2A) scored his first varsity goal while Andrew Tyndall (2G) and Matt Ryan (1G) found the back of the net for the winless Bears.