Pleasantville, Briarcliff, Yorktown Secure Top Seeds for Regionals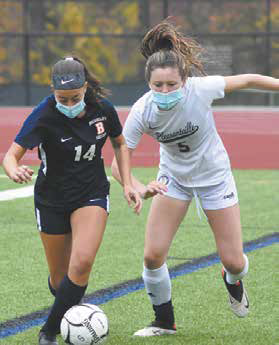 By Ray Gallagher
Examiner Sports Editor@Directrays
Armed with four legit scorers, PLEASANTVILLE, the reigning NYS Class B champion, will enter the Southern Westchester Small School Regional Tournament as the No.1 seed this week. Panthers Amber Nanaj (7G, 3A, 10P), Izzy Kapoor (7, 5, 12), freshman Jess Beck (4G, 4A, 8P) and All-NYS F Katie Moses (7, 8, 15) are locked and loaded, and a stingy defense led by G Lila Donohue Analese Picart, Julia O'Reilly, Carolyn Lee, Riley Vavolizza and Summer de Luca will make the undefeated Panthers (10-0) a prohibitive favorite to win their region.
Sectionals will not be played due to COVID-19, but all Section 1 soccer programs are hoping the virus will lay low among them in an effort to finish out this highly irregular, abbreviated season by next Monday. The Panthers, who have an opening-round bye, will face the No.9 Hastings/No.10 Blind Brook winner in Thursday's quarterfinal.
The opening round is set for Tuesday when No.11 VALHALLA (0-9-1) will visit No.6 Dobbs Ferry (5-4) while No.10 WESTLAKE (2-9-2) will visit No.7 Leffell School (3-3-2). The semifinals will be contested Saturday at higher seed. The finals are slated to kick off Monday at higher seed.
According to most Class B coaches, the Panthers are clearly the team to beat should they bring their A-game to the pitch.
The Southern Westchester Large School Regional Tournament was set to start today: Opening round games include No.9 Ardsley (2-5-3) at No.8 Edgemont (4-7-1); No.11 Mount Vernon (0-12) at No.6 Pelham (5-4-2); No.10 Eastchester (1-8-2) at No.7 WHITE PLAINS (5-6). The Tigers, should they advance as expected, would face No.2 Rye (8-1-1) in a very tough quarterfinal on the road Thursday when White Plains' Katie McAteer (5G, 5A, 10) would need to come up big. The semifinals will be Saturday at higher seed and the finals are scheduled for Monday at the higher seed.
The Putnam/Northern Westchester Large School Regional is full of Examiner-area clubs that are super close in terms of skill level, which should make for a riveting tournament.
The quarterfinals were set to open today with No.8 CARMEL (1-7) visiting No.1 YORKTOWN (9-0-1). The Huskers have had a historic season with Julianna Vano (8G, 4A, 12P) and Drita Tinaj (3G, 6A, 9P) leading a calculated attack. The Rams have faced tough competition, though, and are no pushovers.
No.5 HORACE GREELEY (4-5-2) and leading scorer Ramsey Edson (8G, 3A, 11P) will visit No.4 MAHOPAC (6-3-1), which boasts three lethal scorers in Hailey Pereira (4G, 10A, 14P), a nicked-up Piper Klammer (10G, 2A, 12P) and explosive All-NYS striker Mia Klammer (6G, 2A, 8P), who is nearing a return to full health. If Mia Klammer clears quarantine protocol, she is the X-factor of the tournament, who could steer the 'Pac to a title.
No.6 OSSINING (4-5) and hotshot Marlee Potillo (6G, 3A, 9P) will head to No.3 John Jay-Cross River (7-2-3). No. 7 FOX LANE (2-8) will visit skillful No.2 Somers (9-3) with hungry seniors Ella Kittredge (9G, 6A, 15P) and Dahlia Pepe (12G, 3A, 15P) looking to feast on opposing goalies. This dynamic duo could host John Jay in Thursday semifinals, with visions of Yorktown dancing in their heads for Saturday's championship match, though Yorktown will have to go through the Greeley/Mahopac winner, which makes for some really tough sledding.
The Putnam/North. West. Small School Regional will open up today with No.9 PEEKSKILL (2-9-1) visiting No.8 HEN HUD (4-6) and its lethal scoring duo of Lena Johnsen (7G, 4A, 11P) and Kira Varada (9G, 2A, 11P). No.10 HALDANE (1-9-1) has had a down year by its superlative standards but hopes to get it going in the second season at No.7 CROTON (4-6) and its top finisher Maliha Ravelo (7G, 1A, 8P). The winners will move on to Thursday's quarterfinals at No. 2 North Salem (8-2). The Peekskill/Hen Hud winner will be at top-seeded Briarcliff (9-2) where the Bears have been tough to contain with Ashleigh Fortunate (10G, 1A, 11P), Arianna Vizcaino (7G, 3A, 10P) and Caitlyn Dornau (5G, 3A, 8P) posing as ample scoring threats for the Class B club that is playing up against some tough Class A squads.
No.5 PUTNAM VALLEY (4-5-1), also a Class B club, will head up Foothill Road to make the two-mile trek to No.4 LAKELAND (5-6), who will be tough for the Tigers to contain with Francesca Gerbasi (5G, 8A, 13P) and Nadia Parisi (3G, 5A, 8P)
working in combo with the finisher Ava
Pagliaro (7G).
No.6 PANAS (5-7) and its potent tandem of Kayla Guevara (5G, 2A, 7P) and Kaylie Mellars (4G, 3A, 7) face a tough No.3 BYRAM HILLS (4-2), which comes out of quarantine chomping at the bit. The semifinals are scheduled for Saturday at the higher seed while the top remaining seed will host Monday's championship.