News Based on facts, either observed and verified directly by the reporter, or reported and verified from knowledgeable sources.
Pleasantville Block Party: A Family and Community Fest
We are part of The Trust Project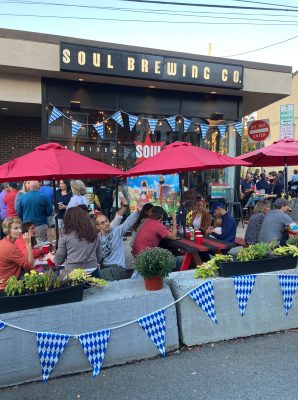 This Saturday downtown Pleasantville will be energized with live music, food, and fun for children and families. The Pleasantville Chamber of Commerce will host the Pleasantville Block Party 2022 to celebrate the downtown – and there will be something for everyone.
The event, which has no admission, will run from 2 to 9 p.m. and feature local restaurants, business vendors, a car show, a kids' fun zone and a beer garden.
"This is a much bigger animal than last year," said Paul Alvarez, the Pleasantville Chamber of Commerce's vice president. "There's a lot more going on."
Organizers are hopeful for good attendance with invites sent to those attending Pleasantville High School's homecoming weekend and Family Weekend at Pace University.
A similar event called Oktoberfest was held in 2021, but the chamber decided to change the name.
"This year, by calling it a block party, the event appeals to all ages," Alvarez said. "A lot of residents do block parties and we will have events for kids and adults."
Block Party 2022 will take place on both Washington and Wheeler avenues. Children will enjoy rides, bouncy castles, free games, face painting, balloon animals and a magician. There will also be a Mister Softee truck.
Music will keep things humming throughout the day. Performing at Wheeler Avenue's Nonna Park will be the 914 String Quartet, Blue Storm 4, Luxury Vinyl and Mike.
At the beer garden, located in the parking lot adjacent to Holy Innocents church,
there will be performances by Frankenstein's Baby from 2:30 to 4:30 p.m. and Red Hots from 6 to 9 p.m.
The beer garden and food area will be open for the event's duration with Arthur Avenue Wood Fired Pizza, Soul Brewing Co. and Southern Table among the local establishments. Other local restaurants will feature Block Party specials, which can be carried out and taken to the beer garden.
"We also know that those coming home to their Pleasantville High School reunion are planning to meet in the beer garden," Alvarez said.
One of the biggest changes this year is how alcohol is sold. Last year long lines outside Soul Brewing saw people drinking along Wheeler Avenue, making it difficult to control and monitor underage consumption. Alvarez said alcohol can only be consumed in the beer garden, which will require identification and a wristband to drink. Six security guards will be on hand to check IDs.
"There will be more control this year when it comes to buying a drink for someone underage," Alvarez said. "People will be told they can't do that, that this is a family and community event and they can enjoy alcohol consumption in moderation."
On Wheeler Avenue, which will be closed to traffic, visitors can find businesses and organizations stationed such as Apollo Chiropractic, Howard Hanna Rand Realty, the Jacob Burns Film Center, the Chamber of Commerce, the Pleasantville Children's Center, Pleasantville Laundry, Boy Scouts Troop #12 and Mister Softee.
Washington Avenue will be closed from Manville Road to the firehouse from 2 to 6 p.m. and will showcase a car show, local organizations, Pleasantville High School classes 2023, 2024 and 2025, Valley Bank and Superior Office Solutions.
The village and local businesses and organizations are supporting the event. Last year there was little time to reach out to businesses, which Alvarez said is why there were no sponsors.
"Last year it was low-key and the village and chamber footed the bill," he said. "But this year there are many sponsors and word has gotten out to all the different villages in the area."
Alvarez said the Chamber of Commerce is hoping to build on the momentum created by Oktoberfest.
"We were inspired by the attendance last year when many people came out for the first time since the pandemic," Alvarez said. "There were so many families, grandparents, kids and neighbors all in one spot who hadn't seen each other in a while. We want to capture that same spirit."
The rain date for Block Party 2022 is Sunday, Oct. 2.