Planning Commission Approves Peekskill Methadone Clinic
We are part of The Trust Project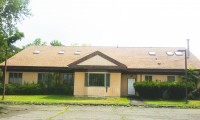 The Peekskill Planning Commission disregarded a request from the Common Council and pleas from 1,000 petitioners to deny a planned methadone clinic off Highland Avenue by unanimously approving the drug treatment facility Wednesday night.
Moments after Planning Commission Chairman Dwight Douglas stated the five-member board "could find no new compelling evidence to change our original decision," a handful of residents rose to their feet and shouted at the board, with some alleging the board was "paid off."
"I don't see how you can have 300 addicts a day and say it won't be detrimental," said a steamed Tom Wahlman. "Our property values will go down the tubes."
"I'm really disgusted. I'm dumbfounded," said Wendy Kelly, who led the petition drive opposing the clinic. "I'm very suspicious of everyone right now. Something doesn't smell good here."
The Common Council retained legal counsel that sent a letter to the Planning Commission on Monday "strongly urging" them to turn down the application of the Renaissance Project to take over a clinic that has been administered at Hudson Valley Hospital Center for more than 20 years. Attorney Robert Spolzino claimed the clinic was not permitted in the M-2 Zoning District.
However, Douglas said the city's building inspector had determined the clinic was a permitted use, saying "that's the only reason it came to the Planning Commission in the first place."
"You should all be ashamed of yourselves. I don't know how you can look yourself in the mirror," resident George Ondek yelled at the commission. "It's a dark day for Peekskill."
For more on this story, check out the October 16 Northern Westchester Examiner.