Petitions Submitted Opposing Methadone Clinic in Peekskill
We are part of The Trust Project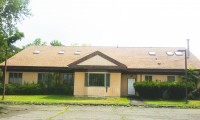 A methadone clinic proposed on Highland Avenue near Cortlandt Colonial Restaurant in Peekskill will tarnish the improved image of the city and decrease property values in the area, according to several residents spearheading a petition drive against the controversial facility.
Wendy Kelly, a city resident, and Tom Wahlman, a nearby Cortlandt resident, urged the Peekskill Common Council last week to prevent the drug treatment clinic from opening in an 8,000-square-foot building at 3 Corporate Drive. Petitions with 675 signatures opposing the clinic were presented to the council.
"I know Peekskill has worked very hard to improve its image. It has improved a lot," said Wahlman, who lives on Doris Lee Drive. "I haven't found one person or entity that thinks this clinic would be anything but detrimental to Peekskill. There's nothing good that goes along with a methadone clinic."
The clinic, slated to be run by the Elmsford-based Renaissance Project, a non-profit drug rehabilitation corporation, was first presented to the Peekskill Planning Commission in February and was approved on June 12. However, city officials rescinded the approval last month after they claimed Renaissance Project failed to properly notify all required property owners and Cortlandt officials.
The facility, which would dispense drugs daily from 6 to 11 a.m. but remain open until 7 p.m., would replace the outpatient methadone clinic that has been administered atHudsonValley Hospital Center in a rear trailer for more than 20 years.
The hospital is losing about $200,000 by running the program and receiving insufficient government reimbursements. Reports of approximately 250 patients receiving treatment daily is greatly exaggerated, according to Bill Dauster, vice president of marketing and development at HudsonValley Hospital.
"There are a couple of dozen that show up every day. Most are there by early morning. The rest of the day the staff is doing paperwork," Dauster said. "We don't see anyone using a bus. These are largely working people that come in cars and taxis. We've had it here all these years and no one knew it. That kind of speaks for itself."
Dauster emphasized the hospital was not part of the application being proposed by Renaissance Project, which is funded by the New York State Office of Alcoholism and Substance Abuse Services.
"This isn't our project. We thought that we found someone to take it over," Dauster said.
Peekskill Mayor Mary Foster, who last month maintained she had only heard about the plans for the methadone clinic in the media, said the council had not been given an opportunity to discuss the project.
"This isn't an issue that comes to the council," she said. "At the present time it is a matter that is only in front of the Planning Commission."
Meanwhile, Wahlman worried about the safety of residents and business owners in the vicinity of the clinic.
"There's children very close to this facility. There's businesses very close to this facility," he said. "These people will have to get there somehow. They will have to go through the heart ofPeekskill. These people are usually desperate. I don't think our children will be safe, our properties will be safe or our streets will be safe."