Petition to Halt Coyote Trapping Circulates in New Castle
We are part of The Trust Project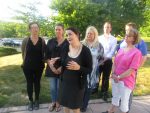 An online petition drafted by New Castle residents opposed to coyote trapping was launched last weekend in response to the Random Farms Homeowners Association's latest decision calling for more traps.
Resident Victoria Alzapiedi, the chair of one of two coyote advisory committees appointed by the town board in 2014 to develop a Coyote Response Plan and the current chair of the town's Conservation Board, circulated the petition on Sunday via Facebook. The petition intends to stop additional trapping either by the state Department of Environmental Conservation (DEC) or the U.S. Department of Agriculture (USDA)
It will eventually be delivered to the offices of Assemblyman David Buchwald (D-White Plains) and Rep. Nita Lowey (D-Harrison).
As of 5 p.m. Monday, 295 people signed the petition. Of the first 253 signatures, 120 of them were New Castle residents.
"Many residents in the Town of New Castle are opposed to trapping of coyotes, since it is done in an (inhumane) way where the trapped coyote is euthanized by a shot to the head," the petition reads in part. "If you believe that we can co-exist and implement more humane solutions to peacefully deter coyotes and redirect them, please sign this petition."
The action comes after the Random Farms Homeowners Association decided last week to enter into a second agreement with the USDA to set up coyote traps on portions of the development's property.
The association's action at its June 22 meeting allows the agency to place foothold traps for a five-day period, according to Jeanine Neskey, a spokeswoman for the agency's Wildlife Services division. Neskey said she was uncertain when the five days commenced or whether it has yet to occur.
The latest operation has also been approved by the state DEC, she said.
Random Farms homeowners have been advised by the association of its decision and to encourage pet owners to leash and accompany their pets outside to avoid coyote attacks and interference with the devices. Neskey also stressed the importance of covering open garbage cans, avoiding feeding pets outside and bringing bird feeders indoors at night to reduce the chances of attracting coyotes.
Signs have been placed near the traps to advise anyone who enters the property.
Despite the second trapping period, Neskey said Random Farms has been informed that there will continue to be coyote sightings.
"Wildlife Services has advised the association that the plan will not eliminate the presence of coyotes altogether, but will seek to reduce the number of habituated or aggressive coyotes in (the) neighborhood," Neskey said.
Confirmation of a second trapping period comes less than a week after it was learned that one coyote had been captured during the previous seven-day period from June 13 to June 20. That animal was killed shortly after its capture. Neskey said any coyote trapped is "quickly and humanely euthanized" in accordance with the American Veterinary Medical Association. She confirmed that a captured coyote is euthanized with a shot to the head.
A call to Random Farms Homeowners Association President Alan Bluestine was not returned last week. A woman who answered the phone at the Katonah Management Group, which oversees the Random Farms development, told The Examiner that "we're not speaking with anybody from the outside on that."
Trapping has angered pro-animal advocates and conservationists in town who once again argued last week that trapping is inhumane and often fails, leading to increased coyote activity in the area.
Alzapiedi was one of about 10 residents who held a press conference last Tuesday outside the Wallace Auditorium at Chappaqua Crossing where the New Castle Town Board was holding its meeting. She stressed that more education, not trapping, was needed to safely live with coyotes.
She said many residents expressed "concern, disappointment, outrage" at the decision to trap.
"It's really important that Random Farms and other parts of our community know that coyotes live here. We'll continue to see them," Alzapiedi said. "Instead of being alarmed about it and pushing back and being at war with nature, now is the time to see how we can safely co-exist."
Alzapiedi said vigilance must be exercised by dog owners, including keeping their pets on a leash while walking, having homeowners fence in their yards and learning proper hazing techniques to ward off potential coyote threats.
"You just learn. You walk them on a leash," said Chappaqua resident Barbara LeSauvage, who attended the press conference. "You don't let them out in the front yard just to roam."
Alzapiedi explained that trapping is often unsuccessful because if an alpha male in a coyote family is eliminated, transient male coyotes move in leading to breeding not only with the female but with its yearlings, which increases the population.
Supervisor Robert Greenstein last week reiterated Random Farms' right to make the best decision on behalf of its homeowners and that its permission to trap is in accordance with state and federal regulations.
He said, however, that the issue is being transformed into a full-scale controversy because of "a fringe group of activists who believe that trapping is never appropriate."
"The town's Coyote Response Plan recommends a measured approach to coyote encounters where trapping is a last resort option to deal with an aggressive and dangerous animal," Greenstein said. "Our focus has always been on education and prevention, but while recognizing that, in some cases the safety risk to residents and pets may require a stronger response."
Greenstein added that The Humane Society has praised New Castle's plan and called it "a model for communities across the country."
On Monday, the Humane Society of the United States urged the town board to encourage Random Farms to discontinue trapping. Lynsey White Dasher, director of Humane Wildlife Conflict Resolution in Washington, wrote a letter to the board disputing statements by town board members last week pointing to how trapping is in accordance with town's Coyote Response Plan.
Dasher said while the humane society praised the town's plan that was approved last year, the two dogs that were attacked last month were unleashed or unattended, which runs counter to the plan regarding public education.
"Therefore, while we did praise your coyote management plan at the time that it was passed in 2015, we are certainly not in support of the coyote trapping currently underway at Random Farms," Dasher wrote.
A coyote attacked a dog on May 18 on Random Farms Drive, one of two attacks in a nine-day span. An unattended dog in a resident's yard on Kipp Street was killed on May 27.
Calls placed last week to Kevin Clarke, a biologist for DEC's Region 3 in New Paltz, were not returned.