PepsiCo, Nonprofit Partner to Help Children of Fallen Service Members
We are part of The Trust Project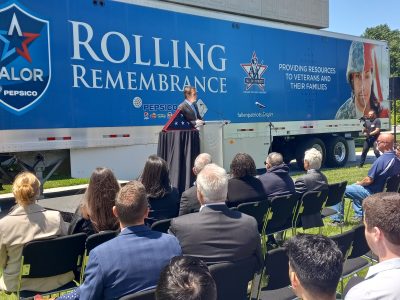 Eight years ago, Jim Farrell wanted PepsiCo to recognize Memorial Day but also to participate in a meaningful project that honors those who lost their lives defending the nation while also engaging the corporation's employees.
The senior vice president for PepsiCo's transportation division and U.S. Army veteran had become acquainted with the Children of Fallen Patriots Foundation, a nonprofit organization established in 2002 that raises money to pay for the higher education of children of servicemembers who died in the line of duty.
In April 2015, Farrell and others drew up the plans for Rolling Remembrance. It emblazoned one of its tractor-trailers used for deliveries with the American flag, the name of the campaign and the logo of Children of Fallen Patriots to help spread the word of the foundation's mission and raise money for the cause.
Each April it leaves the West Coast (this year it was Seattle) and makes a 60-stop cross-country journey piloted by a roster of company drivers, all of whom are former members of the military.
Last Thursday afternoon, behind a local police and fire department escort, it completed the final leg of its trip with driver Karl Dence, who served as a military policeman in the Army, behind the wheel. It arrived at the corporation's Purchase headquarters just before the start of the holiday weekend.
"The best thing that we can do to honor those who have lost their lives defending our freedom is to remember them, not forget them," Farrell said. "That's why we call it Rolling Remembrance, because we're remembering the sacrifices of those who have made the ultimate sacrifice. These are the people that gave up their future, these people who had dreams of raising their family and living a full life, and they died defending our freedom, so we could be in a free country, and we need to remember them for that."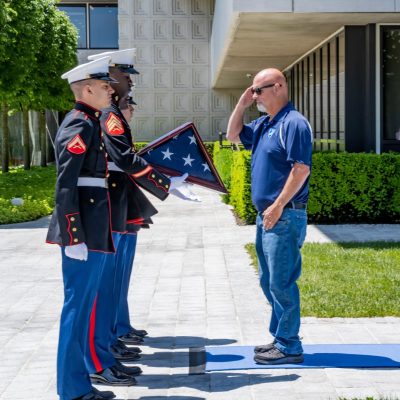 Since Rolling Remembrance launched, PepsiCo has raised $2 million for Children of Fallen Patriots. In all, the foundation has collected nearly $70 million since its inception 21 years ago, sending about 2,800 children of fallen servicemen and women to college.
"We started this in our house, and to see where it's gone, to see a brand like Pepsi say I believe in you, it has really helped us grow as an organization," said Cynthia Kim, the wife of founder David Kim who was inspired to create the foundation because of the death of Sgt. William Delaney Gibbs, who he served with in the Army. "We don't take for granted what you've done."
Despite helping so many who have sustained a loss, most families eligible to receive assistance aren't aware that they could apply, said Col. Jack Jacobs, a foundation board member and a Medal of Honor recipient for his heroism in Vietnam. There are at least 25,000 children who lost a parent in the line of duty, so PepsiCo's campaign helps spread the word, he said.
Jacobs said the least the country could do is to help those children by preparing them for the future, which will also help the nation.
"The best way to have an effect on the future, not just for the children but the country as a whole is to educate the next generation because that will be the insurance which we'll be able to maintain our freedom and maintain our safety," Jacobs said during a ceremony at the PepsiCo campus. "These two things is what drives those of us who are heavily involved in the Children of Fallen Patriots, to redouble our efforts to make sure that we do as much as we possibly can."
Abbie Wittwer knows as well as anyone the positive impact of the foundation. She lost her father, a Navy pilot, in a training accident in 2006, when she was five years old.
Through the help of Children of Fallen Patriots, she was able to graduate last year from the University of North Georgia debt free, and is now the senior accountant and development analyst supervisor for the foundation. But the organization also provided a support system.
"I suddenly had a second family that understood what I had been through but made sure to give back," Wittwer said.
To learn more about the Children of Fallen Patriots, visit www.fallenpatriots.org. To donate through PepsiCo's Rolling Remembrance program, visit https://donate.fallenpatriots.org/give/357484/#!/donation/checkout.