Peekskill to Benefit from Paramount Success
We are part of The Trust Project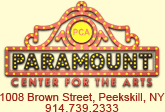 The City of Peekskill will receive a percentage of ticket sales at the Paramount Center for the Arts under a lease agreement with the new operators.
Under a 17-year contract approved by the Common Council Monday night with Red House Entertainment to lease, manage and operate the historic venue on Brown Street, Peekskill will be guaranteed 5% of the adjusted gross income of every show. Red House has projected gross ticket sales of $900,000 in the first year (October 2013 to October 2014) and $2.2 million annually thereafter.
The Paramount, which is listed on the National Register of Historic Places, has been closed since the fall following several years of financial struggles.
"We've taken a large step forward towards reopening the Paramount Theater," said Peekskill Mayor Mary Foster. "I'm pleased that we've reached an agreement on lease terms with Red House Entertainment for the management and operation of the theater. The agreement is strong and is positioned to benefit both parties."
The agreement includes a 10-year option, and Peekskill will pay for utilities for the first six months.
"We're thrilled that the doors of the Paramount will be open again and I'm especially looking forward to Red House's innovative marketing plans and its focus on integrating programming with other entities throughout the city," City Manager Brian Havranek said.
Red House, which has never run a theater such as the Paramount, was selected by the Common Council over two other entities, the Tarrytown Music Hall and the Paramount Phoenix Group. Red House has 50 employees and has been involved in many large events, including the Super Bowl and the Olympics.
"We're very happy to have reached an agreement with the City of Peekskill," said Kurt Heitmann, CEO of Red House. "We're looking forward to working with the city and the Peekskill BID as we reopen the Paramount Theater. We're very pleased that everyone has gathered together to make this agreement happen. It's a great day for this vintage theater to be reopening in Peekskill and the Hudson Valley."