Peekskill School District to Reorganize Central Administration
We are part of The Trust Project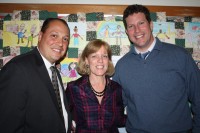 The Peekskill Board of Education last week approved a plan to reorganize the district's central administration, including naming Middle School Principal David Fine as the new superintendent of schools.
Fine will earn $230,000 annually under a three-year contract that is effective July 1, 2015. At that time, he will replace current Superintendent of Schools Dr. Larry Licopoli.
"We believe that Dr. Fine's appointment answers the public's concern that we recruit a proven and well respected educator and leader who fully understands and appreciates the Peekskill community and school district," said Board of Education President Doug Glickert.
"Dr. Fine is an instructional leader with a demonstrated and known successful tenure at Peekskill. He understands the district's strengths and challenges and is committed to our children and school community," Glickert continued. "We are confident that he will capably lead Peekskill to ensure our students have the skills and knowledge they need to succeed in the 21st Century."
Fine said he was looking forward to the challenge of the leading the district's faculty and students.
"I am honored and humbled by the district's faith in my instructional leadership. I am definitely looking forward to working with, helping and serving the district and our community," he said.
Before he becomes superintendent of schools, Fine will serve one year as assistant superintendent for secondary education. Appointed as assistant superintendent for elementary education was Mrs. Mary Foster. In addition, Dr. Joseph Mosey was appointed as assistant superintendent for administrative services.
"I'm extremely excited and think our team will be amazing," Foster said. "I have been in the district for 30 years. I have taught and/or led in every elementary building in this district, so I take this community as my home. I feel these children are my children."