Peekskill Police Chief Seeks Residency Waiver from Council
We are part of The Trust Project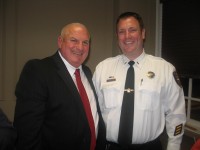 Peekskill Police Chief Eric Johansen has officially asked the Common Council to waive a requirement for him to reside within city borders.
Johansen, 43, was appointed in February 2013 to replace longtime chief Eugene Tumolo at an annual salary of $141,000. The 20-year veteran of the department was chosen over Captain Paul Astrologo, a more than 30-year member of the force.
Based on a change made to the City Charter in December 2012, Johansen had more than a year to relocate to Peekskill, but Johansen told the council last week he lives only one mile outside Peekskill in the Town of Cortlandt on Route 202, between Hudson Valley Hospital and Cortlandt Lanes, and moving would present a hardship for his family.
In particular, Johansen said switching municipalities would force his 13-year-old son to change school districts.
"I did strongly consider moving into the city. To sell our house would be a hardship right now," Johansen said. "I spend a significant portion of my time in Peekskill. A lot of my business is done here. I'm here all the time. I think my actions the last 18 months have demonstrated that I have the best interest of citizens in mind. I can get to the Peekskill police station in five minutes. I'm in Peekskill more than I'm not."
While Johansen maintained he "didn't plan on leaving my job over this. I love it too much," he did point to a Public Officer Law that exempts police officers from residency requirements.
Granting a waiver requires a supermajority vote of the seven-member council, meaning at least five members must give their blessing. With Deputy Mayor Drew Claxton absent last Monday, only six members were in attendance, although no vote was scheduled.
Peekskill Mayor Frank Catalina said in respect to Johansen if at least five members were not willing to grant his request he suggested a vote not be revealed publicly.
Councilwoman Kathleen Talbot said the council had to consider if granting the waiver for Johansen could have a ripple effect with other city staff.
"You made some good points," Talbot told Johansen. "If someone lives on mile outside the city it's different than if someone lives 20 miles outside the city."
Catalina said a decision from the council would be made sometime this month. What remains to be seen is if City Manager Anthony Ruggiero, who lives in Fishkill and was also appointed last year, will also make a similar waiver request since the clock is ticking on his deadline to relocate to Peekskill.