Peekskill Police Chief Johansen Leaving the Force
We are part of The Trust Project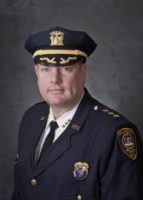 Peekskill Police Chief Eric Johansen is leaving the only police force he has worked with in his 24-year career.
Johansen, 47, who has served as chief for the last five years, submitted his resignation, effective March 2, to City Manager Richard Leins last Friday and informed the Common Council Monday night.
"This is one of the most difficult decisions I have ever made," Johansen said Thursday morning. "It wasn't an easy decision. It wasn't an overnighter. I have been honored and privileged to be a police officer in my hometown."
A Cortlandt resident right over the Peekskill line and a product of Peekskill city schools, Johansen said he was offered a career opportunity, which will still be in law enforcement, that he couldn't refuse.
"It came quick. It will be a new challenge," he said, declining to reveal his new job. "That's what swayed me and the opportunity to grow professionally. I had no plans to retire. Full retirement was not an option. In this profession, with 20-year retirement available, it's lucrative to take pension when it becomes available. That's part of the draw of becoming a police officer."
Johansen stressed his decision to move on had nothing to do with the recent election of Andre Rainey as mayor and the fully Democratic-controlled council.
"It has absolutely nothing to do with politics or who's in office," he said. "I don't think politics has any place in policing. I think the new council is as passionate about Peekskill as I am and as the old council was. I'm confident I would have had as good a relationship with Mayor Rainey and the council as I did with Mayor Foster and her council and Mayor Catalina and his council."
Rainey and Councilwoman Kathy Talbot said they were surprised when Johansen broke the news to them.
"I was very shocked, but more happy for him than anything," Rainey said. "It reminded me of when I first won my position as a councilman and I had to quit the job at the youth center. Sometimes we have to move up when opportunity comes, but it doesn't mean we'll ever leave or stop loving what we do."
"Quite surprised but wish him well," Talbot said. "He will be missed as he's done a good job."
During his years as chief, Johansen said he was proud of how the Police Department better reflects the city's diverse population, noting more than half of the 14 hires were minorities. "That changed the face of the department," he said.
He also attributed the department's emphasis on community policing in helping to reduce crime to historic lows in Peekskill.
"We needed to transform the department so that every officer was approachable and I think we did that," Johansen said. "Our officers are out in the community establishing relationships with the people they serve. My job was made easier by the people I worked with every day."
If asked, Johansen said he would offer Leins and the council his thoughts on his successor, but he is confident the department won't miss a beat.
"I'm confident we have a solid structure and foundation in place," he said. "It will be a seamless transition for the next chief."