Peekskill Mayor Rips City Judge Following Two Street Assaults
We are part of The Trust Project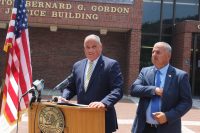 Two street assaults in the City of Peekskill, one which left one victim with a fractured skull after being beaten with a baseball bat, impelled Mayor Frank Catalina to criticize City Court Judge Melissa Loehr for being too lenient on the defendants for what is being investigated as possible "hate crimes."
During a press conference outside City Court July 20, Catalina contended Loehr was "anti-law enforcement" and, according to social media, may have known one of the defendants, a claim he said was being fully investigated.
"Not only were the crimes an outrage and committed by depraved individuals with no respect for the law, the rights of others or have even a modicum of human decency. They were not indicative of this community," Catalina said. "These crimes were compounded by a sitting judge who released them to prey on other citizens, despite their records and despite being told they were the prime suspects in an even more vicious assault on Friday night. All that is expected of her is to lay down the rule of law and to set the tempo in this city so that crime, especially violent crime, will be dealt with seriously."
"As a lawyer in practice for 36 years, her conduct was so outrageous, that it, in my opinion, not only called into question her judgment, but her competence. I began to question what could she possibly have been thinking," he added.
According to Police Chief Eric Johansen, on July 14, at about 11:20 p.m. on Orchard Street, two Hispanic men were walking home from a family event when they were attacked by three African-American men. One of the victims was severely injured with a fractured skull, broken arm, fractured eye socket and other injuries that required immediate surgery. He was released from the hospital a few days later.
"They weren't doing anything. They were just trying to get home," Johansen said. "What they did is disgusting, that they would subject another person to this type of assault to line their own pockets. They beat him mercilessly. There needs to be an example set that this type of behavior won't be tolerated."
Two days later, at about 2 a.m. on South Street, two Hispanic men were attacked again by three African-American men who fit the description of the July 14 crime, although no weapon was used. A wallet and other personal property were stolen.
About 20 minutes later, Peekskill police officers located the suspects on Smith Street and took them into custody. Twins Ishmail and Essa McGougian, both 21, of Peekskill, and Akeem Joseph, 20, of Peekskill, were charged with robbery and assault in the second degree, both felonies.
Meanwhile, Ishmail McGougian was also charged with gang assault in the first degree and robbery in the first degree, both felonies, in connection with the July 14 attack. His brother, Essa, was later charged with disorderly conduct and trying to interfere with a police investigation when he became violent with officers who were arresting Ishmail.
When asked if he felt the incidents were hate crimes, Johansen said, "I believe it's a crime of opportunity. It was a horrific attack. It makes me angry that this happen. We won't rest until we bring these individuals to justice."
When the defendants appeared before Loehr for the South Street incident, the McGougian's were set free without bail despite the District Attorney's Office requesting $25,000 bail for each. Bail for Joseph was set at $2,000 based on a prior domestic violence charge, although the DA had asked for $30,000 bail.
After their arrests for the Orchard Street attack, Loehr set bail for $10,000 for Ishmail and $500 for Essa.
"It was quite a despicable display of judicial temperament," Catalina remarked. "I don't think she's qualified. Now I'm convinced that I was right."
Last November, Loehr, who has actively campaigned for Democratic candidates in the city, made history when she was appointed the first female city court judge in a 4-3 Democratic majority vote.
Two councilpersons who supported her, Kathy Talbot and Andre Rainey, criticized Catalina for publicly lambasting Loehr.
"Mayor Catalina continues to demonstrate locally, all that is wrong with politics nationally. Rather than unite the community in the face of this heinous crime, he seeks to sow division, pit people against each other, and as usual– turn everything into a political football," Talbot said. "Thankfully, there is a stark choice ahead for Peekskill residents this fall. They can re-elect a mayor who is a divider or elect a hopeful mayor who is a uniter."
Rainey, who is challenging Catalina for his seat in November, said, "In a time like this Peekskill needs leadership that is calm, unifying, and reassures the community. It's unfortunate that our current Mayor has decided to take an approach that is divisive and reeks of the very worst of politics. Peekskill deserves better."