News Based on facts, either observed and verified directly by the reporter, or reported and verified from knowledgeable sources.
Nonprofit Holds 10th Anniversary Polar Plunge into Hudson at Riverfront Green
We are part of The Trust Project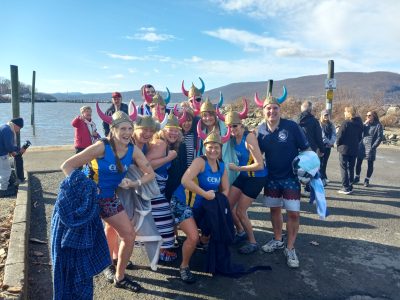 You could argue that you have to be a little crazy to charge into the freezing water of the Hudson River on New Year's Day.
Then again, the just over 100 brave souls that raced into the river on Sunday at noon for the 10th annual Polar Plunge at Peekskill's Riverfront Green weren't just proving they could do something most of us wouldn't try.
They were helping to raise thousands of dollars for the This is Me Foundation, a nonprofit organization started by sisters Lauren and Caitlin Brady that helps those with alopecia areata. The sisters were both diagnosed with the disease when they were in high school.
"The foundation raises awareness and money for alopecia, which is an autoimmune deficiency that causes hair loss, and also gives hope to anyone who faces adversity," said Lauren Brady, who was participating in her ninth Polar Plunge.
The event was created about a decade ago when Chuck McGreal, the owner of the old The Quiet Man Public House in Peekskill, made the suggestion to Lauren and Caitlin that a Jan. 1 plunge could help raise money for the foundation and increase its visibility. Racing into the water on the first day of the year is also a New Year's tradition in Ireland, Brady said.
So with their father, Joe, playing the bagpipes at the water's edge near the stroke of 12, the plungers splashed their way into the water for a dip that took less than a minute for all 101 participants to get wet and get back on dry land.
Anyone could sign up to participate in advance.
Before the plunge took place, Lauren Brady said about $24,000 had been raised this year with donations still coming in. For the inaugural plunge a decade ago, there were nine participants who raised about $2,000.
"I think it's a great cause and I feel it's invigorating to start the year off this way," said Peekskill resident Eric Bishop, who participated with his sister Heather.
It helped that the noon temperature on Sunday hovered right around 50 degrees, although there was a stiff wind coming off of the water. Even so, it represented a vast improvement over the previous weekend – about 30 degrees warmer and that's not taking into account the sub-zero wind chill factors that would have made the plunge a true polar experience if it had been a week earlier.
"It's really a gift," Heather Bishop said. "We got lucky. I think last year, too, it was pretty mild."
The worst year was when it was so cold the river was frozen. So instead of heading into the water the local fire department sprayed the plungers with a firehose.
On Sunday, there was also an impressive turnout from the members of the Cortlandt Community Rowing Association. They were noticeable since many from that group were wearing Viking horns, because their club is located next to the Viking Boat Yard in Verplanck.
Member Cristin Manning said it seemed like an excellent way to bond with their fellow rowers and for a good cause.
"It shows how much of a family we are and how we offer support for the community," Manning said.
Vicki Jaeger, another CCRA member, has participated in all but one of the Polar Plunges. It's only for a brief moment when she might question her sanity.
"It's just a great way to start the new year. It is, it really is," Jaeger said. "You get in and you say, 'Oh no, why did I do this,' and then you come and the bagpipes are playing and you get all hyped up and you run in."
For more information on the This is Me Foundation and the work it does, visit www.thisismefoundation.com.