Peekskill, Croton-Harmon Station Renovations Celebrated
We are part of The Trust Project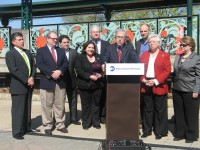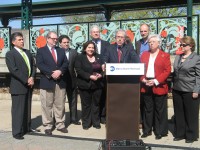 The completion of major renovations at the Peekskill and Croton-Harmon train stations were applauded Friday by local elected and Metro-North officials.
"Hooray for Metro-North!" state Assemblywoman Sandra Galef (D/Ossining) exclaimed in front of the Peekskill station platform where the ceremonial ribbon cutting took place. "This is a gateway to a community. It's the door. You want it to be a place that people feel comfortable in, it's appealing and at the same time you get great service."
The improvements in Peekskill included a complete renovation of the overpass and staircases with a new floor, window replacements, new lights and elevator upgrades. There is also new lighting, signs and an enhanced public address system, along with art work dubbed "Jan Peeck's Vine" that was created by artist Joy Taylor.
"It incorporates the zigzag structure of the historic station, which transitions into a flowering vine descriptive of the current flowering of the arts in the city," Taylor explained.
"I love public art. It's beautiful. It really makes it a very special place," said county Legislator Catherine Borgia (D/Ossining).
Besides the renovations to the station, which serves 1,400 customers daily, Metro-North announced it had agreed to sublease two small parcels of riverfront land along its tracks to Peekskill so construction can begin on the RiverWalk.
Metro-North made many of the same improvements to the Croton-Harmon Station, the busiest stop on the Hudson line with 3,700 daily customers. Overall, Metro-North spent $15 million on the two projects.
"The recent improvements will keep our station safe and attractive for our customers, especially the lighting upgrades and new platform canopies," said Croton Mayor Leo Wiegman. "Our village has a great partner in Metro-North at the Croton-Harmon Station."
Artwork at the Croton station, which depicts the village's trees and flowers through the seasons on windows in the overpass, was designed by Corinne Ulmann of Brooklyn.