Peekskill Council Seeks Candidates to Fill Vacancy
We are part of The Trust Project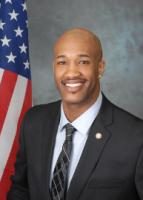 The Peekskill Common Council is actively seeking candidates to fill a vacancy created when Andre Rainey was elected mayor in November.
Rainey's empty council seat has two years remaining on its four-year term, but the individual who is appointed will only serve until Election Day, November 6, when a special election will take place for the final year of the unexpired term. The seat carries a salary of $8,686.
Anyone interested in being considered must be a registered voter and have resided in Peekskill for a minimum of three years. A brief letter of intent and resume should be emailed to Rainey at arainey@cityofpeekskill.com or mailed to: Mayor Andre K. Rainey, 840 Main Street, Peekskill, NY 10566 by Friday, January 26.
Although the Democrats currently control all six seats on the council, Rainey maintained it wasn't a done deal that a Democrat would be appointed to fill the empty position.
"The council will be leaning towards the best decision we can make collectively with the resumes we have/will receive," Rainey stated. "I can't say what we're leaning towards as far as party lines, but we have to determine who we agree upon by who sends a letter of intent and interest. Many people I would love to be on the council with me, but seem to be unsure as of what they see nationally and during campaign season. Hopefully the candidates, whatever party, have the city's best interest at heart."
Rainey said he believes experience "is essential to government" and "someone with a great financial background would be a great addition, but not limited too."
In addition, Rainey is looking for someone who is honest, possesses management, leadership and good communication skills, and will make tough decisions.
"Some politicians will not address issues that they know will make them unpopular. This should not be the case. One should not be scared to tackle issues affecting the community, regardless of how difficult or unpopular these issues may be," Rainey said. "A council person should be transparent and honest to the public. Although good intentions are laudable, a good, honest person knows there are more people involved in the decision-making process. Thus, making promises on issues over which one has no control, will only disillusion the people whom follow."
"The best council persons, in my opinion, exhibit a vision for the future and should be able to sell that vision to the public and collaborate with the council and others," he added. "The people of Peekskill deserve the best and that's what we'll strive to appoint."
Several potential appointees have been mentioned through the city grapevine, including former Councilman Darren Rigger, who served as the master of ceremonies during the New Year's Day swearing-in ceremony of Rainey and councilpersons Vanessa Agudelo, Ramon Fernandez and Colin Smith.
This week, Rigger neither confirmed nor denied that he was throwing his hat back in the political ring.
"I can't comment on any of this stuff. Other than to say I am thrilled by this new council," he stated. "I think they are filled with lots of positive energy and new ideas."