Peekskill Community Health Leader Rev. Jeannette Phillips Dies at 90
Obituary Reports the death of an individual, providing an account of the person's life including their achievements, any controversies in which they were involved, and reminiscences by people who knew them.
We are part of The Trust Project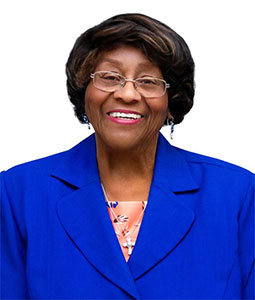 The Rev. Jeannette J. Phillips, one of the founding mothers of a community health center in Peekskill that now carries her name, died Sept. 12 surrounded by loved ones. She was 90.
Phillips opened the Peekskill Area Ambulatory Health Care Center in 1975, along with three other African American founding mothers: the late Mary Woods, Willie Mae Jackson and Pearl Woods, to provide access to healthcare for their community. With the other founders and longtime CEO Anne Kauffman Nolon, she grew the Peekskill Health Center – now Sun River Health – into one of the largest Federally Qualified Health Center networks in the United States, serving patients across the Hudson Valley, New York City and Long Island at nearly 50 sites.
"Rev. Jeannette Phillips' passing leaves a huge hole in the fabric of the Peekskill Community," the Peekskill NAACP said in a statement.
Phillips was born in Harlem, New York City, in 1933. She attended the historic Booker T. Washington High School in Miami, where her academic and social engagements, including delivering an anti-Korean War graduation message, helped shape her future pursuits. Upon her graduation in 1955, Phillips accepted a job at the Veterans Hospital in Montrose, where she became passionate about increasing access to quality healthcare.
In 1956, she married Howard Phillips. When they were approached by a member of the Veteran's Administration to provide housing for community veterans and seniors, they readily accepted and invited them into their own home. This gave Phillips a firsthand understanding of the unmet needs of residents in the community.
"We were able to raise money with local fundraising," Phillips once said. "We had one particular group, the 'Soul Sisters,' who sold dinners and pies and cakes and whatever else to help get money into the organization. You couldn't get more grassroots than we were."
After founding the health center, Phillips earned her bachelor's degree with honors from Mercy College and went on to attend New York Theological Seminary, later completing four years of Conference Studies in the A.M.E. Zion Church. She was ordained as a deacon, then an elder in 1992, and became the pastor of the historic Woodside A.M.E. Zion Church in Stamford, Conn.
In 2015, Sun River Health's Peekskill health center was renamed the Jeannette J. Phillips Community Health Center with many dignitaries present. She was subsequently honored by the New York State Legislature in the state capitol.  Phillips was the recipient of numerous other awards and recognitions, including the New York State Governor's Award for African Americans of Distinction in 1994, The CHCANYS Catherine M. Abate Memorial Award in 2018 and Crain's Notable Women in Healthcare in 2019. Her most cherished recognitions were the Sojourner Truth Award, which she received in 1994, and the Harriet Tubman Award for her work as the Westchester District President of the Harriet Tubman Home Historical Society.
Phillips was the proud matriarch of her family, which includes her three daughters and two sons, and more than 100 grandchildren, great-grandchildren and great-great grandchildren. Phillips also shared her love of ministry with her husband, both revered and sought after throughout the Hudson Valley as innovative and life-changing preachers.
"It is my faith that keeps me grounded," Phillips often said. "And it is my belief that God equips and strengthens those who are called to serve."