Peekskill Breaks Ground for Lincoln Depot Plaza, Visitor's Center
We are part of The Trust Project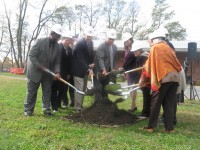 City of Peekskill officials held a ceremonial groundbreaking Friday for Phase 1 of a new public plaza that will surround the recently opened Lincoln Depot Museum on South Water Street.
The $600,000 project on a one-acre city-owned site with include a boardwalk and landscaping along McGregory Brook, decorative lighting, a new station platform in the rear of the museum, state-of-the-art outdoor exhibits and a visitor's center.
"This has been a long time coming. I'm so glad we're able to finally get this off the ground," Mayor Frank Catalina said. "This project goes back many, many years. This plaza and museum will help the city fulfill its promise of making Peekskill a great place to live, work, visit and enjoy."
The city has been planning and securing permits and funding for the project for more than eight years. The multi-phase redevelopment of the waterfront has been funded by Empire State Development ($1.135 million), the New York State Department of State ($300,000) and matching funds from Peekskill.
The first phase of the redevelopment was the grand opening of Peekskill Landing Park in September. The second phase is the ongoing construction of Riverfront Green South and the Peekskill Bay Greenway park and trail system, scheduled to open in 2015.
"Parks and recreational facilities serve as important economic engines in our communities and we look forward to the substantial economic activity this project will bring to Peekskill," said Empire State Development President, CEO and Commissioner Kenneth Adams.
The city also received a letter from Governor Andrew Cuomo expressing his support for the project.
County Legislator John Testa (R,C/Peekskill) said the plaza was another example of the progress Peekskill was making under Catalina's leadership.
"We're very excited about it. As you have seen the last couple of months under Mayor Catalina things are moving forward," Testa said. "We're now at a stage where this whole site will be completed and transformed."