Peekskill Awarded $2.5M in State Funding for Waterfront Projects
We are part of The Trust Project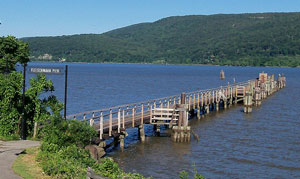 The City of Peekskill has been awarded more than $2.5 million from the state for two waterfront projects.
The projects that received the grant from the New York State Regional Economic Development Councils through the Consolidated Funding Application are the Riverfront Green Connector Trail construction and the Fleischmann Pier and Charles Park improvements.
"The addition of these funds from New York State will help aid in the completion of these projects and transform the waterfront in our great city," said Peekskill Mayor Vivian McKenzie.
A grant of $1,092,928 and a city match of $184,309 available in a Parks and Recreation Department fund will go towards construction upgrades at Fleischmann Pier and Charles Point Park, which will likely get underway in the spring or summer after bids are solicited in March.
The 500-foot-long Fleischmann Pier was built in 1938. The multi-phased project will involve park enhancements that include landscaping, seating, stairs, lighting and electrical work. It will also implement the city's Local Waterfront Revitalization Program by adding water-based recreational amenities and providing additional public access to the Hudson River waterfront by creating docking for kayaks and larger vessels.
Meanwhile, a grant of $1,480,428 and a city match of $343,544 that is also available in a Parks and Recreation Department fund will be used to construct a trail segment and amenities in Riverfront Green Park, which anticipated bidding to begin in the spring. The project will expand public access and trail opportunities, providing the final touches on Peekskill's three-mile waterfront trail system.